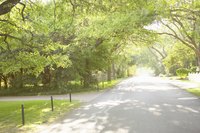 If you own a parcel of land, you need to be able to get to it. Most residential property fronts on a public road right-of-way, but rural land may not. If your property does not front a public road, you will need permission to cross someone else's property to get to yours. Written legal permission to cross another's property is referred to as an ingress/egress easement.
Public Roads
A public road right-of-way is created when a county, state or municipality acquires the use of a strip of private property to build a road to benefit the public. Many road rights-of-way are created when the land owner deeds the right-of-way to the governmental body, but some are condemned through the courts. Condemnation may be necessary when a private land owner refuses to deed to the governmental body and the courts determine that the land is needed for public use. A road right-of-way is basically a strip of land that the right-of-way holder has the authority to maintain and control. Actual ownership of the property remains with the property owner such that if the right-of-way is ever vacated or abandoned by the government, the adjacent property owners generally re-acquire the land.
Private Easements
If a property owner cannot access his property from the road, then he frequently will acquire an ingress/egress easement across the property of an adjacent land owner. An ingress/egress easement is usually a written legal document where one property owner grants another the right to cross his property for access. An ingress/egress easement is usually made as an "appurtenant easement," to run with the land passing from property owner to property owner until terminated by the acts of one or both of the land owners. An ingress/egress easement between property owners is considered private, meaning the general public has no rights to cross the property. An ingress/egress easement may also be created "by prescription." A prescriptive easement is created merely by an extended period of use. One or more property owners may drive across a strip of land continuously for years to access their property until an ingress/egress easement is understood to exist over the property.
Unopened Right-of-Way
Some rights-of-way may have been established or granted long ago in anticipation of the future need for public access to property. Strips of land may have been dedicated by timber companies or developers over rural land at specific locations to a governmental body for public access. Although rights-of-way such as these may be established on paper by recorded documents at the county courthouse, roads may never have been built in those locations. Even though a property may front on one of these unopened rights-of-way, it doesn't mean the property owner can actually drive to the property. The owner may currently be driving over existing trails established by prescription. If the property owner desires to use an unopened public right-of-way for access, he may find himself negotiating with the governing body to determine if it will open the right-of-way. The owner may offer, as part of the negotiations, to clear and maintain the right-of-way for a specified period of time.
Utility Easements
Utility companies will often have or acquire rights-of-way to run utility lines, and will also acquire an ingress/egress easement over private land to access and maintain those utility lines. These easements and rights-of-way may be created by deeds from the owners or by condemnation through the courts.