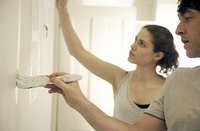 Renovating homes provides an effective way to earn extra cash that could end up becoming a primary source of income. Regardless of where your strengths lie, you can make improvements to any property and put it back on the market at a higher price tag. Depending on housing market conditions in an area, renovating a flipping a home could earn you a health profit.
Hunting Down a Deal
To make a profit flipping a property, you must first find a house listed at below market value. To begin, search through your local Multiple Listing Service database, online classifieds ads and the newspaper. A real estate agent can help you find deals and may have access to listings that you do not. If you are willing to take a little risk, consider buying a bank-owned property or bidding on a property at a tax auction. Conduct a benefit-cost analysis for any property you plan to buy and renovate to gain insight into whether it's worth time, money and effort.
Getting Down to Work
The renovation process involves a financial commitment for both fixed costs, such as mortgage payments, and variable costs such as materials. However, in addition to purchasing materials and paying monthly bills, you'll need to factor in costs for hiring plumbers, electricians, general contractors and other handymen. Consult with knowledgeable professionals before you begin to get a stronger handle on what renovation projects will bring in the highest return on investment and what sort of financial and time commitments you'll need.
Finding a Buyer
Once you settle on a price, you can list the property for sale by owner or through a real estate broker. Broker fees add a considerable expense, but if you go the FSBO route, you must be prepared to do all the legwork including evaluating the market, placing ads, arranging visits or open houses, coordinating with buyer agents for further inspections or appraisals, negotiating offers and attending the closing.
Leasing Works Too
As an alternative to selling, you could instead decide to become a landlord and lease your renovated property. While going this route means that you'll earn no lump sum from a sale, the cost of the renovation project can still be justified. This is because you have the flexibility to charge higher monthly rent after the property is renovated. Eventually, you'll recoup your investment, and all subsequent income will be pure profit.
Financing a Renovation Business
It is usually the ultimate goal of those who plan to flip multiple houses to build enough equity to start purchasing properties in cash. This is because getting financing can be difficult, especially if you quit your regular job. Even if you manage to get a mortgage, you'll likely face pre-payment penalties for selling the property so quickly. Having a larger down payment on hand and working with a real estate lawyer could make it easier to get financing until you're ready to purchase houses in cash.