Travel agents assist clients with arrangements for travelling and lodging. They work out travel routes or itineraries according to their clients' specifications, keeping in mind the purpose for which the clients are traveling. For example, they might arrange accommodations for a business trip. When you set up your travel agency, your main objective is to provide your clients with the best service.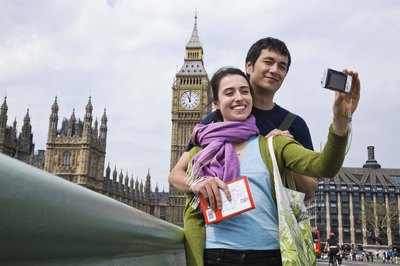 Get the Best Accommodations for Customers
Work within your clients' budgets and provide them with the best of amenities and economical transportation options. To do so, you'll need to have connections with a network of travel operators who can provide you with up-to-date information about the latest choices available. A membership with national travel associations such as the American Society of Travel Agents might go a long way in helping you meet your clients' requirements. That's because members of these associations include other businesses in the travel industry in several countries and destinations all over the world.
Customize Travel Plans for Clients
Communicate clearly with your clients to understand their needs. They might want family or group arrangements, or they might want an adventure vacation for themselves. They might be physically challenged and need you to design their trip accordingly. They also might be eco-tourists who want to travel to untouched natural locations and help local communities. Clients might have specific seating requirements, including seat assignments in the smoking or non-smoking sections of airplanes and trains. Often your clients may not have a fixed destination in mind, so you might need you to make suggestions and work out ideal travel plans for them. Whatever your clients' requirements, your job is to meet them.
Plan Itineraries
You'll need detailed knowledge of geography and the quickest available transportation so you can assist clients in planning their travel routes. You want to make sure your clients spend the minimum amount of time travelling from one destination to another. You also need to make sure check-in and checkout time is minimal. Customers will appreciate your efficiency in making arrangements for meals, so you must skillfully research and reserve tables at restaurants in advance or provide information about interesting cafes and off-the-track eateries. Send your customers off fully knowledgeable about the activities available at their destination.
Make Sure Clients Have Travel Documents
Your clients need to have their paperwork in order when they travel, and you might want to give them a checklist of must-have documents and necessities. For example, make sure they have adequate travel insurance and valid passports and visas. Inform them about requirements as mandated by the country they'll visit and make sure they comply. Make sure your clients set up emergency procedures so friends and family can reach them in case of emergencies back home or if there's a crisis in the destination country. Also, inform them of the vaccinations they might need before leaving home.
Resolve Travel Problems
If your clients encounter unforeseen situations, you must be able to deal with them and arrange for solutions. For example, if an airline cancels your client's flight, you'll need to find the most viable alternative, such as other available flights, a car rental service or possibly railway bookings. Offer tips and inside knowledge about items your clients should take on their trips, and tell them what they can expect when they get to their destinations. Provide detailed information about the laws and customs of the destination country, as well as safety tips customized to the destination.