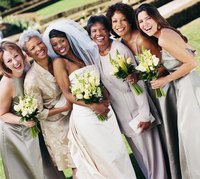 The US wedding industry generated $51 billion in revenues and employs almost 800,000 employees, according to IBIS World's 2013 Wedding Services Market Research Report. Moreover, the industry is expected to grow in to a $54 billion industry by 2016. These numbers prove that operating a bridal business can be lucrative, but you'll need to study the industry's various market segments to find the your particular niche.
Bridal Fashion
Bridal fashion targets the bride and her entire female family and friends who need outfits and accessories for the wedding day. While there are many boutiques that specialize in designing and creating the bride's wedding dress, you can instead focus on the other items the bride might need such as footwear, hair ornaments and gloves. You can also offer dresses for the mother, or flower-girl and bridesmaids costumes. Wedding dresses hold sentimental value, so you can offer preservation services. You'll need to know the latest bridal trends and provide excellent service to be successful in this segment.
Wedding Planning
Wedding planners target the segment of the bridal industry that wants someone else to handle the details so they can focus on enjoying their big day. The Bureau of Labor Statistics reports that wedding planner jobs will grow by 44 percent through 2020. You don't need a lot of money to get started, because you can begin your career as a home-based consultant. A degree or a certificate in planning and assistance for legal issues is helpful for success in this segment. As a wedding planner, your goal is to make sure the event proceeds as planned. Sometimes you'll coordinate events your clients already scheduled but other times, or you'll organize the wedding activities per your clients' specifications. You'll work within their budget to book venues and arrange for flowers, and decorations. You'll also arrange for professional photographers and videographers to create memories of the event. Organizing the cake and food caterers are other services you might offer.
Jewelry Market
Brides love to sparkle on their wedding day, leading to a profitable market segment for those who can meet their needs. The jewelry business remains profitable despite changing economic conditions. Diamond rings and other bridal accessories are in demand throughout the year, and you can cater to requirements for wedding bands and anniversary rings. Some dealers might offer jewelry on hire for weddings, so this is another niche you might serve.
Beauty, Health and Spa
Aside from hair and make-up services, brides also look for facial and body hair removal, teeth whitening, manicure and pedicure services to ensure they look their best on their wedding day. Massages and relaxation services are also very much in demand. In this market segment, your target clients are not only brides but also bridesmaids and other members of her entourage. Before you begin business, check with your state Board of Cosmetology in case you need a license for the services you offer. You can offer discounted packages for the entire bridal party, and even arrange for bridal shower parties to extend your services. Build relationships with wedding coordinators, caterers and bridal shops and use these avenues to advertise your business.
Other Services
There are various other segments of the bridal industry business to which you can cater. For example, you can offer transportation for the couple according to their preferences. For example, they might prefer limousines, the traditional horse-drawn carriages or a classic Rolls Royce. You also can set up a wedding band service to play music or a wedding entertainment service where clients can hire performers such as belly dancers, sword swallowers or flamenco dancers to entertain wedding guests. If you have knowledge of the travel industry, you can offer honeymoon packages for newly-weds or partner with wedding planners to arrange destination weddings.