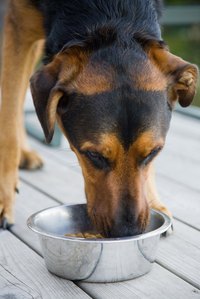 The way you feed your dog is an important part of his overall care. Selecting the most appropriate dog dishes and water bowls for your pup can impact how quickly your dog eats, which in turn, impacts his digestive process. With so many different varieties to choose from, take your time and find dishes that will best meet the needs of your dog.
The Right Size
Select a feeding bowl based on the size your pup will eventually grow to, rather than the size he is as a puppy. If you're investing in expensive, high-quality bowls, this will make it a cost-effective purchase. The size of the food bowl you select should be large enough to hold a single adult-sized serving -- typically no more than 2 cups -- while the water bowl should be large enough to accommodate a full day's supply of water. If you're unsure what your dog's water and feeding requirements will be at adulthood, read the recommended serving sizes on your pet food bag or container or consult your vet for guidance.
The Right Material
If you get your dog a plastic feeding dish, there's a chance he may chew it up, which can be dangerous, especially if he cuts his mouth on sharp plastic or swallows chunks or shards that could perforate his intestines. Plastic and ceramic dishes also have the potential to become scratched or cracked, and can harbor harmful bacteria if not completely cleaned and disinfected after every use. For best results, opt for stainless steel feeding bowls, which are both durable and hygienic.
Elevated Versus Non-Elevated
You can purchase elevated dog dish stands to raise your feeding bowls off the ground. This can be helpful if you have a large dog who has to lean over significantly to reach a floor-based bowl. It can be tedious for your large dog to lift his head to swallow after every bite. Additionally, if you have a dog with long ears, you may find a narrow or elevated bowl helps prevent his ears from getting wet or soiled with food.
Bloat Avoidance
Large breed, elderly and overweight dogs are susceptible to a potentially deadly condition called bloat, or gastric dilatation-volvulus. This occurs when a pup eats too quickly and the stomach twists on itself. This is a condition that requires immediate veterinary attention or it could quickly lead to organ damage or even death. If your dog is a fast eater, or has experienced bloat before, consider using a flat feeding dish or even a cookie sheet to spread out his food and slow the pace of his eating.