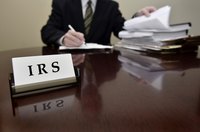 Nobody wants to run afoul of the Internal Revenue Service, but mistakes happen. Sometimes even innocent errors can mushroom into nightmares that can cost thousands of dollars in legal fees. The IRS is aware that not everyone has that kind of money at their disposal, however, and it offers several services if you find yourself in this unfortunate situation.
Visit the IRS Website
Before you panic, check out the IRS website at IRS.gov. You might think your question or problem is complicated, when in fact it's a simple misunderstanding of the tax process. The IRS can help you over a number of different stumbling blocks on its website, from choosing the proper tax forms to arranging for an installment plan if you can't pay all you owe in one lump sum. You can't get one-on-one personal assistance here, however. If you don't find the answer to your question online, you can move on to other sources of help.
Taxpayer Assistance Centers
The IRS offers Taxpayer Assistance Centers, or TACs, in every state. You can find the location of the one closest to you on the IRS website. Some work on a first-come-first-serve basis, so you may not be able to make an appointment -- just show up, sign in and wait to see someone about your problem. TACs can't help you complete your tax return, but if you have the kind of problem where you need to sit down and meet with someone to work it out, TAC personnel can assist you.
Low Income Taxpayer Clinics
If money is particularly tight, you might qualify for help from a low income taxpayer clinic. LITCs can offer more extensive assistance, like representing you in an audit or appeal. They also can help you respond to an IRS notice if you don't completely understand what's being asked of you. You must meet income guidelines to qualify, or speak English as a second language. Income limits are set by individual LITC offices, so they're not necessarily the same nationwide. Contact the one closest to you to find out the income limits in your area -- the IRS publishes a list of clinics, complete with phone numbers. LITCs receive some funding from the IRS, but they work independently of the federal government. These clinics are free, but you might have to pay for some filing fees or administrative costs.
The Taxpayer Advocate Service
The Taxpayer Advocate Service resolves disputes between taxpayers and the IRS. You must have tried and failed to solve your problem through other means first. You also can qualify for help with TAS if the IRS is going to take some action against you in the very near future if your matter isn't resolved. TAS can intercede and try to work things out. It assigns an advocate to work on your case and bring it to a resolution, and the service is free. TAS is part of the IRS but it works independently of it, representing taxpayers' interests. It has offices in all 50 states. You can find the location closest to you at the IRS Taxpayer Advocate Service website.