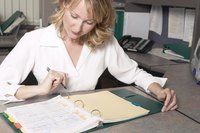 All employers need to maintain folders that contain relevant employee documents. You can keep these documents in paper form or preserve them electronically. You'll start your file the moment you interview the employee and end it after she leaves your company. Be sure to comply with state laws regarding maintenance of these files. Several folders are needed for each employee, because each piece of information has a different purpose and some information is highly confidential.
Candidacy Folder
Maintain information that details the employee's candidacy with your company, but keep any information that does not concern the actual hiring procedure out of this candidacy file. Include your requirements for the job, copies of your "Help Wanted" ads and references from previous employers. If you retrieved the candidate's credit rating or if the candidate submitted to drug tests as part of your recruiting process, include information stating whether or not the candidate passed, but don't keep actual reports of these tests in the folder.
Employment Eligibility Folder
At the time of hiring, you'll collect I-9 forms from your employees. The employee must sign this form and provide the required documentation that proves he's legally permitted to work in the United States. You must verify the documentation and sign the form. Keep the form and copies of the applicable documentation in the file. Place nothing else in this employment eligibility folder, because it must be readily available if authorities from the Department of Homeland Security, Department of Labor or Department of Justice need to inspect it. You must keep this information confidential.
Employment Folder
Detail the time your employees spent with your company in their employment folders. Keep details about disciplinary actions, including warnings and suspensions for inappropriate behavior. Maintain all the necessary paperwork, including actions you took to correct the behavior. This folder is where to store documents that prove your employees are aware of your company's rules and regulations, along with agreements such as work contracts, confidentiality pledges and noncompete guarantees. Save copies of certificates and transcripts of training your employees received. Keep records of job assessments, rewards and bonuses you awarded for good performance.
Medical Folder
Maintain confidential folders -- including any medical folders -- under lock and key, making sure only authorized personnel have access to the information. If you have records of an employee's medical condition or disability, make sure you keep this information secure and separate from other personnel files in a medical folder. If the employee has a medical emergency, you can make this information available to the health-care workers who are trying to help her. If the law requires it, government officials can see the file, as can insurance providers if they require medical exams.
Employment Termination Folder
You need to keep records in a termination folder for a specific time as directed by federal laws even after your employees no longer work with you. If your employees file lawsuits against you, or if you think one might be filed, preserve all relevant paperwork while the lawsuit is in progress. After the required time frame elapses, dispose of the documents properly so they aren't misused. If you have electronic records, make sure that authorized personnel delete the records.