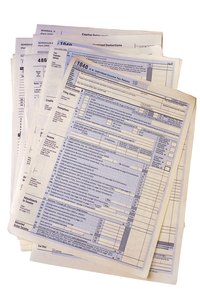 The sole owner of a closely held corporation can take out money in any amount she chooses; multiple owners of a closely held corporations can do the same, provided that the owners agree. Some ways of taking money out, however, enjoy considerable tax advantages over others, and may draw the scrutiny of the Internal Revenue Service. IRS warnings to S corporations and a 2011 tax court finding suggest that owners of S corporations should be particularly mindful of IRS regulations regarding executive compensation.
C Corporation Dividends
The owners of a C Corporation can take money out of the corporation as dividend payments. The tax rate for dividends in 2013 is the same as the long term capital gain rate. No matter your tax bracket, money taken as dividends enjoys a 10 to 20 percent tax advantage over salary payments, which are taxed as ordinary income. If your income is $200,000, for example, your ordinary income tax rate is 39.5 percent, while your tax rate on dividends is 20 percent.
The Reasonable Compensation Requirement
Because dividends paid out of closely held corporations enjoy a significant tax advantage over salary payments, the IRS looks closely at salary payments to see if they are reasonable. One criterion is the comparison of salaries of executives with salaries of executives with similar positions at a similar corporation. IRS Publication 535 lists 10 more criteria the IRS uses to determine if a salary is considered reasonable. Always consult a tax adviser about such matters, but chances are that if you're drawing a reasonable salary, haven't lowered it to compensate for the dividend, and the dividend meets other listed IRS criteria, the IRS will allow it.
Supplemental Wages
The owners of a closely held C corporation may take money from the corporation as supplemental wages. These include bonuses, commissions, overtime pay, accumulated sick leave payments, awards, prizes, back pay and retroactive pay increases, as well as certain payments for moving expenses. If the owners' income puts them above the 25 percent tax bracket, taking money out as supplemental payments enjoy a tax advantage because, provided the supplemental income is taxed using the percentage method -- which the IRS allows -- the tax rate is a flat 25 percent.
S Corporation Limitations
Owners of S corporations should be particularly cautious about taking money out as dividends or in other ways that avoid Social Security or Medicare taxes. In 2011, a district tax court examined a dividend declaration by the owner of an S corporation, a professional accountant, found the salary payment unreasonably low and assessed him about $50,000 in taxes and penalties. The IRS had previously issued a warning about owners of S corporations declaring cash distributions and payments of personal expenses to reduce taxes, or of taking out loans in lieu of wages.