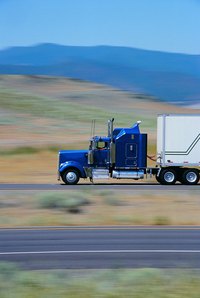 Goods are transported throughout the United States by rail and water, but the trucking industry often is the final link in the delivery chain. Before 1980, heavy federal regulation resulted in high shipping prices and stifling of competition among carriers. The Motor Carrier Act of 1980, signed into law by President Carter, deregulated the industry and resulted in more competition and lower rates. Today, a number of federal agencies still exercise authority over the trucking industry, and states also have agencies that govern interstate transit within their borders.
Federal Motor Carrier Safety Administration
The Federal Motor Carrier Safety Administration was established in 2000 and operates under the authority of the U.S. Department of Transportation. Its main mission is to prevent or reduce injuries and fatalities that involve commercial motor vehicles. Among its duties, the agency maintains and enforces the motor carrier safety regulations that govern the engineering, manufacturing and operation of commercial transportation equipment. Other agency responsibilities include setting and enforcing limits on hours of operation and interstate transport of hazardous materials.
Federal Highway Administration
The Federal Highway Administration was founded in 1966, though it had predecessor agencies starting in the 1890s, to oversee the construction and preservation of the nation's roads. Over time, its duties have evolved to include the national network, which is made up of the interstate highway system and associated bridges and tunnels. As part of that mandate, it monitors and enforces states' compliance with federal regulations regarding size and weight of commercial vehicles. These standards apply only to the national network, however, and states are free to establish their own regulations for other roads and highways in their jurisdictions.
Other Federal Agencies
The Environmental Protection Agency sets and enforces emissions standards for all vehicles, including commercial trucks and buses. U.S. Customs and the Federal Maritime Agency govern certain licensing of transport companies -- including trucking companies -- that carry imported goods into the country. The Occupational Safety and Health Administration also has a say in some aspects of the trucking industry, because, for many drivers, the truck is their workplace.
State Authority
In addition to federal regulation of the trucking industry, states also have their own regulatory bodies. Some state agencies only oversee carriers that operate solely within their borders, but others have authority that affects interstate drivers. One example is a state's department of motor vehicles, which handles the licensing of drivers and registration of vehicles. Regardless of where a truck's destination may be, it has to be registered and plated, and its driver must be properly licensed to lawfully make the trip.