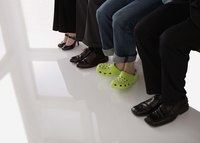 Almost every product or service has either a direct competitor or substitute from which customers can choose. Companies that adopt a strategy of differentiation must work to increase the perceived value of their product or service to make them stand apart. There are several approaches to implementing a differentiation strategy that can be used separately or together
Differentiating on Product
Unique product features can be used to implement a differentiation strategy. Those features should meet consumer needs more efficiently or quickly than competitors. The cost of adding a feature, however, has to be less than the premium that can be charged for adding the feature. Unique manufacturing processes can help differentiate a product. For example, it might be manufactured using green technology, or it might be manufactured domestically rather than being outsourced, or it might be manufactured using a unique raw material that competitors don't have. Companies like Gucci have differentiated their products on the basis of style and design.
Differentiating on Quality
In mature markets like Western Europe or America, quality is taken for granted as inferior products quickly fail in the marketplace because of their own shortcomings. To differentiate your product here, it needs to be of a superior, deluxe quality, which brings in a new set of problems. The cost associated with producing a superior, deluxe product raises the cost to where the target segment that can afford it is very limited. In developing markets where many products are inferior, using quality to differentiate your product can be a successful strategy.
Differentiating on Service
Certain products are commodities and almost impossible to differentiate based on product attributes, so the focus on those becomes differentiation by service. A company might focus on speed of delivery, offering free or reduced price on overnight delivery. Use of multiple channels of distribution might make your product more easily available to consumers than your competition. The use of loyalty programs for rewards or discounts will generate repeat purchases and retain your customer base. Companies that offer complex or hi-tech products that in competitive markets might consider offering better after sales service and training than competitors.
Differentiating thru Positioning
When using a differentiation strategy, the goal is to convince your potential consumers that your product is a better value than your competitors. One way is to differentiate by product, quality or service. Another is through positioning where, according to noted business author Philip Kotler, a company uses advertising and promotion to create a distinctive place in the mind of the consumer that attributes unique features to your product. Those features may or may not be unique, but if the consumer believes them to be, you have successfully differentiated your product.