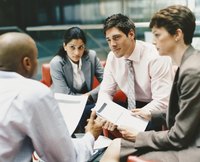 With the limited liability company, or LLC, business structure, owners are referred to as members. The flexibility of an LLC allows you to bring on new members as either investors or partners. To "sell" memberships means that you bring new members into your LLC in exchange for a cash investment. Going from a single member to a multi-member company requires you to change or update your operating documents.
Business Partners and Investors
In the world of LLC businesses, membership equates to ownership, so you should define your purpose for selling member slots in your LLC. In general, an LLC member is equivalent to a partner in a partnership. Think of selling memberships as taking on partners. With an LLC business structure, you can define the role of new members; they can be simply investors, or they can help to run and manage the business.
LLC Documentation
To start up a new LLC, you must file an articles of organization -- or similarly named document -- with your state department of commerce. The articles will list the initial members of the LLC. Your new business also needs an LLC operating agreement. As the name states, this document describes how the company will be run, including the duties, rights and obligations of the members. In most states, the operating agreement does not need to be filed with the state. For a single-member LLC, all powers in the company belong to the single owner-member.
Amending the Operating Agreement
To go from a single-member LLC to one with added owners, you need to amend your company's operating agreement. The new agreement should list the new members, their function in the company and how much money they are putting into the business. Amending the operating agreement is how you sell memberships, and the money each new owner pays is the paid-in capital amount. With an LLC, you can give individual members different levels of ownership and participation in running the company and sharing the profits.
Notifying the State
Generally, it is not necessary to change your articles of organization with the state when you add members, but you should check with your local department of commerce to make sure. You will need to include an updated members list when you send in the mandatory annual report to the state. You will also complete a Schedule K-1 for each member when you file the LLC's federal tax return. Members will use the K-1s to complete their individual tax returns.
Rights of LLC Members
After your LLC has been switched from a single-member company to one with multiple members, additional members can only be added with a unanimous vote of all members. This means you can sell memberships only one time as the sole owner of a single-member LLC. Once someone is a member of the LLC, she cannot be forced to give up her membership and her ownership share.