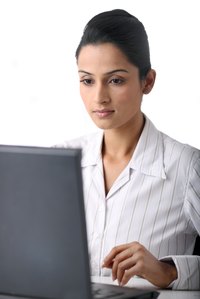 Social media can play an important role in your business. It can bring you new business and remind returning customers of what you do. Social media is free to use, and you can use it to expand your business in just a few minutes a day. When you set up your social media profile, include your business contact information and a link to the company website in the About section or description area. Your social media profiles should complement your website, not replace it.
What Social Media Can Do for You
Social media provides the opportunity to reach millions of people at the click of a button: customers, prospective customers and potential investors. It is free marketing and free public relations. If you leverage social media tools correctly, you can spread awareness of your business and increase sales. You can also use social media to educate your customers about your products or for research. If you're choosing between two ad designs, for example, you can put both on Facebook and ask your customers which they like best.
Picking a Platform
A lot of social media sites are out there -- Twitter, Facebook, Instagram and Pinterest, to name a few -- and they change in popularity regularly. In two years, one may not be popular anymore. You probably don't need a business presence on all these sites. Choose one or two that you think will benefit your business most. For example, if you're a fashion designer, an image-driven site such as Pinterest or Instagram might be most helpful to you.
You Can Do It
Social media upkeep doesn't require a five-hour marathon. Set aside a few minutes a day to post content and respond to customers. Vary the times. No one likes a social media friend who hops on, posts 18 things and disappears for a week. Think of it as a conversation with an employee; you might chat a little in the morning, pass each other in the hall and then accompany each other to your cars. Monitor the site regularly and make time to respond to any customer complaints or comments.
What to Post
You can do plenty of things on social media: share news about your business, post photos of new products, share stories, post surveys and run contests. The best social media strategy includes a mix. Focus on benefiting your customers. That might mean posting links to other websites so that people can learn about your product, or it might mean posting a funny video that doesn't promote your product but that's related to your industry, just to make people smile.
Leveraging Resources
Several websites stand ready to help you manage your social media profiles if you feel you don't have the necessary time. You put in your login information and then you schedule the contents of your posts several days in advance. With the use of these websites, you can set aside 30 minutes at the beginning of the week and plan, write and schedule an entire week's worth of social media posts. During times of national crisis, you'll want to turn these updates off so as not to appear insensitive. If you're overwhelmed by managing your social media presence yourself, consider hiring a part-time social media expert.