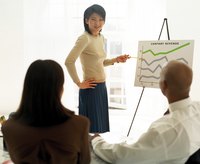 Sales revenue analysis provides a look at what products sell and their profitability against past company performance. Revenue analysis informs management decisions about what services or products to produce, weighs profitability of individual products and supports dynamic projections for future resource allocation. Weighing per-item profitability allows more accurate price comparison to competitor products as well as more agile allocation of sales, marketing and manufacturing capacity. Sales revenue analysis thus empowers managers to make informed, data-driven decisions.
Historical Sales Growth
Creating year-over-year sales revenue comparisons by product -- with explanatory notes about market, economic and competitive environments --provides valuable trend data for profitability analysis. Managers calculate annual sales growth against past performance and compare how it is accelerating, decelerating or remaining constant. A similar technique is to evaluate sales growth over a multiple-year period using a compounded annual growth rate that smooths out the performance curve. Managers can then determine if the company is growing according to plan and take appropriate actions relating to resource allocation or strategic direction. In the energy drink market, for example, sales of Red Bull increased by 13.2 percent over the 52-week period ending May 15, 2011.
Projected Sales Growth
The next logical step after reviewing historical performance is to forecast sales. Unlike historical analysis, there isn't one standardized approach. The simplest projections involve extending historical growth patterns. More advanced forecasting techniques model sales based on drivers such as the industry's growth, market share, price points, sales channels, sales staff, planned product launches and so on. In the case of a brand losing market share, management would have to weigh these product considerations to determine whether it can keep up its present sales growth.
Resource Allocation
Skillful analysis of sales revenue supports resource allocation within the company and the corporate need to share mission-critical data with planning and finance, operations, accounting, marketing and manufacturing. Not all sales growth should be treated equally. In many cases, it's easy for managers to cut prices or make other changes to boost sales. But what about profits? Common size financial statement analysis offers insight into the "quality" of sales growth. All line items on the income statement are expressed as a percentage of sales. Suppose that a company grew by 5.5 percent last year after slashing prices across their entire product spectrum. By converting the company's net income into a percentage of sales, we might learn that its profit margin has shrunk from 3.5 to 1.0 percent. This insight could lead to a different pricing strategy. Another company might be experiencing rocketing sales for one of its products but slumping sales elsewhere. Management can allocate more resources to its star products by shifting spending in areas such as marketing -- advertising spending, channel distribution, investments and sales staff headcount.
Sales Benchmarking
Benchmarking measures a company's performance relative to its industry, especially in areas of growth and market share. Analyzing sales revenue points to the viability of individual products and product lines. Any differences in performance can then be directly traced to gains or losses in market share. A fast food restaurant chain that grows by two percent while the market expands by five percent is clearly losing customers to its competitors. Competitive advantage comes at a price . Sales revenue analysis supports cost-effective research into the practices of competitors -- and corporate strategic plans. For example, the energy drink market grew by 15.7 percent for the 52-week period ending May 15, 2011, in contrast to Red Bull's 13.2 percent. Competitive analysis reveals that other brands, such as Monster Energy, grew even faster over the same period.