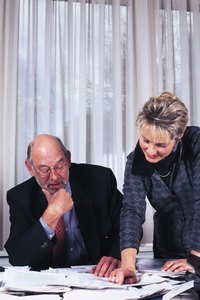 Generally accepted accounting principles define contingent liability or loss as an existing situation or set of circumstances that might hurt your business. These events will ultimately resolve when one or more future events occur or fail to occur. For example, if a customer suffers an injury caused by your products, he might file suit in court. The financial impact of the case is dependent on the court's decision and thus is a contingent liability. Sometimes, companies don't know that a particular event is a contingent liability, so they might not record the event appropriately. If you fail to treat a contingent liability adequately, your financial reports will not present a true and fair view.
Search for Unrecorded Contingent Liabilities
The occurrence of a contingent liability is not common. During the planning stage, auditors review your company's prior year files and current year's facts, which they obtain through management interviews. They search for events or items that support the possibility of contingent liabilities. For example, if they find that your company faced litigation threats, they will use their judgment to explore a reasonable outcome of the litigation in light of case facts. They'll analyze the valuation and treatment of the event and examine internal documents, contracts, agreements, invoices, bank confirmation letters and press releases.
Letter of Audit Inquiry
Auditors use letters of audit inquiry to obtain claims and litigation evidence from the company's lawyers. In addition to identifying the company and noting the audit date, the inquiry contains information from the company's management, listing descriptions and evaluations of contingencies. They send these letters to each lawyer that handled a potential contingent liability case for the company. Your company's lawyers are duty bound to provide auditors with all relevant information needed to audit your company's records. If they refuse to provide information, they limit the scope of the audit. If this is the case, the auditor will decide the appropriate way to present the facts based on materiality and risk. The presentation might include an emphasis on the matter in the audit report.
Review of Subsequent Events
Contingent liabilities also may arise from subsequent events, which are events that occur after the balance sheet date and before auditors complete the audit report. They pertain to financial information reported at the balance sheet date and have a material effect on financial statements. Auditors may interview managers who were directly involved in subsequent events. They also read post balance sheet interim statements and compare this information with the financial statement to see if they vary significantly. Auditors also may review board meeting minutes to see what significant events the board members discussed. They'll then verify this information with other evidence.
Final Evaluation
During the final audit steps, auditors form opinions based on all the information they've gathered and analyzed. They present a management letter containing recommendations for improvement, along with an audit report. It's important for auditors to inform you about the results of audit engagements. They also must communicate concerns related to the audit process, such as significant audit adjustments, disagreements with management, consultations with other accountants and any difficulties experienced during the audit.