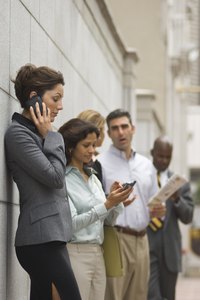 Savvy business owners need to be aware of how loitering can affect their businesses. While some establishments, such as coffee shops, allow individuals to use their facilities without making a purchase, most businesses prefer to enforce local ordinances to keep loiterers moving on. Some loiterers may have the most innocent of motives for loafing around your business, but many can cause problems and even the well-intended can lead to a decline in business.
When Things Get Ugly
There are several kinds loiterers: those who quietly hug a corner, those who are lonely and just want to chat -- taking up your time and distracting your from your customers -- and those who become obnoxious and harass your customers in some way. A loiterer could ask your customers for money, shout at them or just talk loudly to himself. Sometimes loiterers can intimidate customers by their behavior without intending to do so.
Property Damage
Harassment can escalate into violence, which could involve property damage or injury to a customer or employee. The last thing you want to see in the paper is a description of an assault that took place at your establishment. If your customers don't feel safe at your business, they will go elsewhere. Loiterers can also damage the property, such as with graffiti, either during or after business hours.
Casing the Joint
One problem with loiterers is that you never know when they are just hanging around and when they are up to no good. It is common for criminals to observe or "scope out" a place before robbing it or its customers. A smart criminal takes measures to minimize suspicion. Having a policy against loitering can protect a business from the threat of casing for purposes of theft.
Damage to Your Company Image and Business
A loiterer can affect your business's image, especially if an individual is poorly dressed, has poor hygiene or is otherwise disagreeable to your customers. Your image and reputation are important to the success of your business, and a loafer who disturbs your customers or makes them uncomfortable can quickly drive them away. If allowed to remain, a loiterer could give your business a reputation it may not deserve, temporarily or permanently damaging your image and driving away customers.