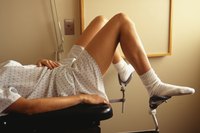 Creating a marketing strategy to reach out to women helps ensure your OB-GYN practice bustles with patients each day. Identify your target market, so you can create messages that attract new patients and keep current ones coming back. Some of your patients will come to you, but it may take savvy thinking to find others.
Put Your Business Online
People used to check the Yellow Pages and newspaper ads when they needed to find a doctor, but the Internet has replaced that. These days, everyone has a website, even physicians. If your practice doesn't have a website, you're missing out on any patient who heads to the Internet when she's looking for a new doctor. Your website should include your biography, contact information, list of services offered, directions to your office, list of accepted insurance types and anything else helpful to patients. For example, the Women's Care of Beverly Hills Group has a patient portal on their website, where women can schedule appointments online, request prescription refills and access medical records.
Create a Social Media Strategy
Social media has become so popular that everyone, including doctors, have accounts on sites like Facebook and Twitter. There's a good chance your target market spends a good deal of time on these sites, so by creating a social media strategy for your business, you're able to connect with your patients in a more personal manner than offered by traditional advertising methods. For example, you could post content related to current health issues, promoting the services you offer and telling the stories of inspirational patients. If your clients are on social media, you need to be there too.
Participate in Community Events
Attend community events like health fairs to get your name out to local women. Contact organizers to set up a booth promoting your business and giving you a chance to personally meet all women who stop by. Bring business cards, fliers promoting the importance of routine checkups and other promotional items with your name and contact information on them.
Network with Other Physicians
Attend networking events to meet other doctors. Create a mutually beneficial relationship with the new contacts you meet to refer patients to one another's practices. Of course you should always research the other doctor to make sure he's someone you trust your patients with before making referrals. A patient trusts her doctor, so if another physician refers you as a great OB-GYN, there's a good chance she'll give you a call.