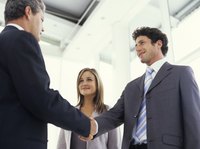 You are hosting several German business prospects and would like to make a good impression. Preparing in advance for key cultural differences can help facilitate understanding. Especially if you are coming from a relationship-based culture where the priority is to establish emotional comfort, says international business resource Global Edge at Michigan State University, the fact-based German culture may prove disorienting. Your guests may be on your turf, but it still helps to be aware of "the German way of doing things" to ease any culture shock and pave the way for a more successful business experience.
Formalities
Punctuality is taken seriously in Germany, whether in business or social settings. If you are running late for any engagement, it would make sense to call ahead to inform of the delay. In the matter of greeting your German guests, shake hands with everyone upon leaving and arriving, says global diplomacy portal eDiplomat, paying attention to not leaving one hand in your pocket. Germans are particular about their titles, so be sure to use the correct one in addressing your guest. At the same time, when introducing yourself, do not use your own title, but rather, simply your last name.
Doing Business
When hosting German business guests, you may find yourself in both work-related and non-work-related contexts with your guests. When conducting business, keep in mind that rank is a big deal in German culture and deference is accorded to those with higher rank. You would not arrange a meeting, therefore, between a lower-rank employee and a higher-level person. As Global Edge indicates, Germans are schedule-oriented and fact-based analytical thinkers. Make sure you have plenty of empirical evidence to back up your presentations and reports. Be prepared for a long process of negotiation, as decisions will not be made instantaneously.
Meals
You may choose to entertain your German guests as an extension of the business discussion by going out to eat with them or inviting them to your own home. When doing so, note that German businesspeople do not make business decisions at mealtimes, nor do they generally have breakfast meetings. During the meal, be prepared for further business talk mixed with a smattering of social conversation, but not too much, as Germans find "small talk" uncomfortable to do among strangers. Regardless of your particular relationship, if you invited the person out to a restaurant, you will be expected to pay the tab at the end of the meal.
Social Events
As a host to visiting Germans, you might feel obligated to keep their evenings occupied with all sorts of social activities. Global Edge says this isn't necessary, as Germans place high priority on time spent outside of business, and so they will value having down time to themselves. If there is a party where they will be newcomers and you are the host, help introduce them to others, as in Germany, parties tend to be among friends and preformed cliques. When conversing with your German guests, safe topics are sports and travels. Personal questions are not advised.