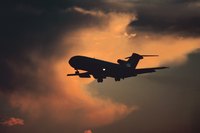 A death in the family can take everyone by surprise. Arrangements for sudden but necessary flights without prior reservations can be expensive. In the past, most major airlines offered substantial discounts for bereavement travel. But in recent years, many airlines have phased out those types of discounts. With a little patience and research, however, you can still find affordable fares that will see you through a family crisis.
Bereavement Rates
Bereavement rates are discounts airlines offer to passengers flying during a family crisis. The discounts offered by some major airlines may be as little as five percent or as much as 50 percent off the fare. You won't be able to book a flight using these discounts online. Instead, you'll need to call the airline and speak to a representative. Mostly the discount rates are dependent on availability, route and length of stay. Airline policies vary from carrier to carrier whether the discount applies to immediate family members only or not, and some may require documentation ranging from a physician's phone number to actual death certificates in order to validate the bereavement request.
Discount Carriers
Since bereavement discounts are applied against the published list price for a last minute departure, the amount you pay may actually be more than rates you could get elsewhere. A more affordable last-minute travel solution might be flying on one of the discount carriers such as Southwest, JetBlue, US Airways or Virgin Atlantic, among others. None of these airlines offer bereavement rates, but their regular last-minute fares are less -- sometimes significantly so -- than what the major carriers charge. Depending on your destination, booking a flight with one of them could end up being cheaper in the long run.
Online Travel Services
One way to save money on last minute fares is by using one of the many online travel services such as Expedia, Orbitz, Priceline, Hotwire, AAA Travel Services, AARP Travel and others. These services usually provide significant last-minute discounts on airfare. Since these services use powerful search engines to ferret out the best prices, the lowest price from one is usually within a few dollars of all the others. A relative newcomer to online travel services, Google Flights, has proven itself a worthy competitor of the others. The downside, however, is that you can't purchase directly on Google Flights.
Help from the Funeral Home
If all else fails, you can try contacting the funeral home itself for help finding affordable airfare. Funeral directors deal with these kinds of problems on a daily basis and may be able to tap into resources unavailable to the average person. You might also try contacting a company called Eagles Wings for help. Eagles Wings works with funeral homes around the country arranging the movement of human remains for quickest delivery at the lowest available prices. Although it is primarily a cargo carrier dealing more with funeral homes than individuals, it certainly can't hurt to give them a call.