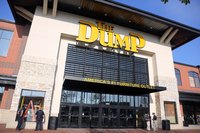 Names are not only a way to refer to a business, but they are an opportunity for businesses to sear their brand into people's consciousness and leave an indelible impression. There is no set formula for finding a winning business name, but companies pay hefty sums for consultants to experiment with the way words sound or the images they evoke, to come up with that unforgettable moniker. In effect, they are looking for a name to pull the heartstrings of their customers. Brand Insight Blog underscores the correlation between the memorable name and the market value of a company.
The Emotional Connection
Psychological studies on brand names, as discussed by mental health information portal Psych Central, found that brand names hold a special neurological status in the brain, distinct from mere word recognition. These names engage the emotional centers of the right brain to a greater extent than do mere nouns. Business names, by tapping into such emotions as feeling competent and responsible, drive purchasing decisions, market research company Executive Solutions discovered. At their most impactful, names create a sense of belonging and serve as belief systems, almost an alternate form of religion.
Preexisting Meanings and Associations
Brand consultancy publication "Branding Strategy Insider," in its interview with Carol Moog, a clinical psychologist and consultant to advertising agencies, says the name of the company triggers a host of associated responses in people. Because a name becomes interchangeable with the company itself, it is important for the company to carefully choose a name whose message is consistent with its preexisting meanings and associations, as these will be identified with the company's persona. A name or word should be examined in every possible light so as to determine any contradictory images or evocations. If too many conflicts surface, it may be better to get rid of the name.
Brevity and Simplicity
Instead of fighting against nature, businesses can learn to work with people's general tendencies. "The New Yorker" discusses business names in light of consumer psychology and how people prefer not to think more than necessary. People like names they can pronounce and that are easy to understand. In a study on company stock performance, author Adam Alter found that companies with names that were relatively simpler and easy to pronounce performed better upon being listed than did companies with more complex names.
Power of Brand
According to job aggregation service Marketing Crossing, brand names have such a powerful influence on people that they actually change activity in certain areas of the brain. A Baylor College of Medicine study in 2003 found that the part of the brain that controls higher thinking, the medial prefrontal cortex, lit up in MRI scans when subjects were told that what they were drinking was Coca Cola. Subjects who initially said the unidentified beverage tasted worse than other samples changed their estimation once they were told that the beverage was Coke. Scientists theorize that brain activity recalling Coke commercials overrode taste perceptions, in Coke's favor.