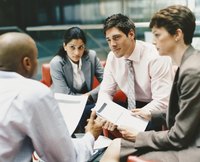 A crisis management plan might seem like a project that takes a lot of time and, occasionally, some expense to develop for something you're not likely to ever use. Unfortunately, events often occur faster than people can respond and you can't foresee every disaster. Because crises can result in significant losses, the main goal of a crisis management plan is to mitigate the effects of a disaster.
Identify Possible Crises
The first critical step in developing a plan is to identify potential threats. In some areas, tornadoes, hurricanes and other weather-related disasters are most common. Chemical spills along highways and railroad right-of-ways might be predictable and power failures are a fact of life in areas where infrastructure is old. Workplace shootings and acts of terror can seldom be predicted and often have tragic consequences. Identifying possible crises and the probability and damage potential for each is the first step in identifying ways to protect an organization and minimize damage.
Prepare Physical Resources
Sometimes, minimizing damage to your organization is as simple as locating servers in a protected area or providing shelter for employees. Off-site mirror facilities might be necessary if devastating crises such as floods, super storms or terrorism are possible. On-site generators protect systems against power outages. Each crisis poses specific threats. A crisis management plan guides the preparation of physical resources for a quick recovery and provides for employee education so they can participate constructively to help minimize the impact of a crisis.
Agree on Leaders
When disasters strike, a bunch of bosses giving conflicting orders can cause even more damage. Your director might be a brilliant innovator but an emotional wreck under pressure. The physical plant director might not only know your facility inside and out but also have remarkable presence of mind in emergencies. In an emergency, you want the person who's not only going to remember where the plan is filed but who will have the confidence to take over and give orders. Developing a plan gives the organization the opportunity not only to identify these people, but also to let everyone know who will be the boss in an emergency.
Plan of Actions
Whether it's relocating payroll records to the tornado shelter or outlining where to shelter in place during a lockdown, a prioritized plan of tasks helps lessen confusion. A schedule of responsibility assignments givzes everyone a job to do, even if it's just closing windows and turning off the electricity. Plans identify outside resources, keep current lists of contact information, and ensure that most important tasks are completed first.
Ensure Communication
By establishing lines of communication and providing for technology, such as battery-powered radios and cell phones with which to do it, people within the organization can share information and adapt plans to fit circumstances -- and keep communication lines open with important resources as well as local authorities. Designation of one public information officer ensures that curious reporters and other interested parties get only necessary, fully vetted information.