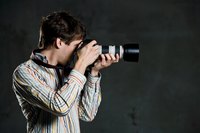 Opening a modeling agency takes connections to convince ad agencies, producers and designers to hire your models for their shows or photo shoots. That's where a business plan comes in handy, helping you outline how you plan to secure clients and models while developing your agency into a profitable business. Whether you plan to finance your agency yourself or secure a loan, creating a business plan gives you a guide for becoming a competitive player in the fashion industry.
Describe Your Company
The business plan should give a summary description of your modeling agency and include your past experience working in the fashion industry. Explain why you think your agency is needed in the industry. Talk about your contacts in the fashion world and explain how you plan to find models. Describe what makes your agency special -- for example, you primarily represent children, plus-size models or everyday people.
List Services
The services section needs to provide details on two types of services -- the services you offer models to get them to sign with your agency and the services you provide to people who hire those models. For instance, explain how you pay for test shots to determine if candidates make good models and how you help your models get headshots, portfolios and comp cards, which serve as business cards for models. For people who hire models, such as advertising agencies and clothing designers, outline the commission you plan to take from each assignment you secure for your models.
Analyze the Market
Describe the market that offers jobs for your models. For instance, if your agency specializes in fitness models, explain current fitness trends and how magazines, websites and television programs need models to showcase fashion and exercise equipment. Discuss both local and national competitors among modeling agencies, and describe the marketing efforts they use to find models and secure jobs. Finally, describe the type of people you want as models and where you plan to find new faces for your agency.
Detail Promotional Tactics
The plan should detail the steps you plan to take to interest models in your agency. For example, maybe you plan to approach photogenic strangers and hand them your business card and a brochure about your agency, or maybe you want candidates to come to you. Discuss your promotional tactics for establishing relationships with designers and advertising agencies that need models, such as building a website that showcases your talent and staying in touch by sending headshots of models you'd like them to consider.
Outline Operations and Management
Explain how your background in the modeling or talent industry as well as your business experiences prepares you to run your own agency. If you do not have the skills to manage the agency, describe the qualifications of the person you aim to hire to handle day-to-day operations. If you plan to hire in-house photographers, stylists or makeup artists, outline the requirements for these positions.
Provide Financials
Provide projected income and loss statements that explain all of the expenses you'll incur, such as renting space for your agency, recruiting and promoting your models and paying photographers to do tests shots. Add in utilities, salaries for any employees you hire, equipment and supplies, such as booking software, needed to run your business. Then explain how many modeling assignments you must book to offset your expenses and make a profit each year.