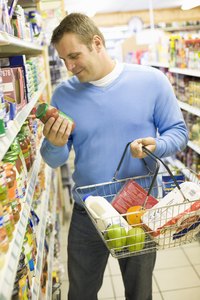 Every time you wander down the aisles of your local supermarket, you're faced with the choice of buying national brands versus store brands, or "private labels." Often the store brands sit directly next to the national brands on the shelf, making comparison-shopping difficult to avoid. Knowing the difference between them can help you make better decisions about your spending habits.
National Brands
You typically recognize a national brand when you see it: Clorox (detergents), Ben & Jerry's (ice cream), Kellogg's (cereal), Diamond (nuts), Ocean Spray (juices) and so on. These and other big-name brands account for approximately 82.6 percent of retail food sales in the United States. Their popularity is the result of several factors, including multi-million-dollar advertising campaigns and the promise of a consistent experience every time.
Private Labels
Store brands offer an alternative to national brands. Instead of buying Diamond walnuts, you might buy Costco's Kirkland brand. Similarly, you might choose Kroger's Private Selection ice cream over Ben & Jerry's. Currently, the private label share of retail foods sales in the United States is 17.4 percent. Some believe that store brands still have a long way to go. In Europe, private label accounts for a whopping 24.4 percent of retail food sales.
Cost
Price is an important consideration when choosing between national and store brands. While their prices have been rising, it's common for store brands to cost 25 to 30 percent less than their equivalent national brands, according to TIME. By outsourcing production to national brands or specialty manufacturers, retailers avoid having to make big capital investments in factories and equipment. They also don't spend nearly as much on advertising (if anything), making it easier to pass along the savings to consumers.
Quality
National brands have historically enjoyed the perception of higher quality. However, that belief has changed, with 78 percent of shoppers now reporting that store brands offer the same quality as national brands, according to a poll conducted by Consumer Reports. Part of the reason is that shoppers have learned that store brands are often made by the same companies behind national brands. Blind taste tests also reveal that store brands are usually as tasty as their more expensive national counterparts.