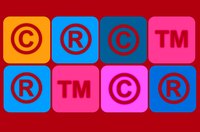 Patents, trademarks and copyrights are the three most recognized types of intellectual property. Patents protect inventions, trademarks protect a company's logo or slogan and copyrights protect artistic and creative works. Patents and trademarks are handled by the United States Patent and Trademark Office, or USPTO, and copyrights are handled by the Library of Congress.
Inventions, Designs and Plants
The USPTO grants patent protection for three types of invention. Utility patents protect new machines, processes and manufactured items. Design patents protect new designs for existing manufactured items. Plant patents protect new plant varieties. A gardener who bred a new type of rose would need a plant patent. A company that created a new design of flowerpot would need a design patent. An inventor who invented a device to display flowers without a flowerpot would need a utility patent. Patents issued by the USPTO prevent anyone else from making the same product for 20 years.
Trademarks and Service Marks
A trademark is a symbol that is associated with a particular company's products. This symbol can consist of words, a design or both. For instance, a brewer could register the name of one of its beers, the logo and any other distinguishing imagery. The word "trademark" is often used loosely to refer to service marks as well. Service marks represent services rather than products. For instance, a flower arranger could register a stylized image of a red rose as a service mark. When the USPTO registers a trademark, the registered symbols are protected. Other companies may not use the same symbols on their own products.
Copyrights and Copycats
Copyrights protect any work that could be said to have an author. Books, stories, songs, screenplays, paintings and drawings can all be copyrighted. Copyright protection prevents anyone other than the copyright holder from making copies or even derivative works based on the original work. However, copyright protection only goes so far. For instance, if a novelist writes an unauthorized sequel to a copyrighted novel, he would be in violation of the original author's copyright. If he wrote a new novel highly influenced by the original but not directly derived from it, he would not be in violation.
Using the Marks
Companies and individuals often indicate their intellectual property by the use of recognized symbols. A "c" in a circle indicates a copyrighted work, whether or not the copyright is registered with the Library of Congress. A "TM" indicates a trademark, whether or not the trademark is registered with the USPTO. "SM" indicates a service mark. The use of these symbols is an assertion of rights under common law without the full protection granted by USPTO registration. The letter "R" in a circle indicates a trademark or patent registered with the USPTO. "TM" or "SM" can legally be used even if the USPTO does not acknowledge the symbol as a legitimate trademark, but the circled "R" can only be used after the USPTO grants recognition.