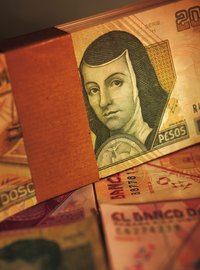 In 2010, Mexico put new money exchange regulations in place. The regulations, aimed at limiting drug money crossing the border unchecked, change how you can use and exchange U.S. currency in Mexico. Fortunately, ATMs and credit cards make getting pesos while traveling in Mexico easy and convenient, but before you go make sure you understand the fees and how to keep your money safe.
New Regulations on US Currency
New regulations prevent businesses from accepting more than $100USD in cash for a product or service in Mexico, and banks are limited to changing $1,500 per month per tourist. Before you head to the nearest bank with a wad of cash, keep in mind that you might have to open an account to get it changed.
Exchange Counters
The best place to change U.S. currency into Mexican pesos is at a licensed exchange house or "casa de cambio." You can find these easily at the airport, in large hotels and in most towns and cities. Exchange houses charge a fee and require you to present your passport to change currency.
ATMs
ATMs are common in all large cities in Mexico and in most smaller towns and allow you to get Mexican currency using a debit card or credit card just as you would back home. Make sure your PIN number is four digits long or your card might not work in Mexico. Most U.S.-based banks charge a fee for using ATMs outside their system and the Mexican banks also charge fees for each transaction. Use ATMs inside banks as a precaution -- thieves have been known to alter card readers in isolated ATMs to retrieve pin and card information.
Credit Cards
Major credit cards are accepted at hotels and in most shops and restaurants in large cities and tourist areas. Smaller towns and places off the tourist path might not accept cards as widely, so take cash with you. When you pay with a credit card in Mexico, the exchange rate is calculated automatically. Check with your credit card company before you go to see what, if any, foreign exchange fees they charge for purchases.
Traveler's Checks
Once the most secure way to travel with money, traveler's checks are getting harder and harder to use. Some banks will change traveler's checks while others won't touch them. Like banks, exchange counters vary in their policy towards traveler's checks. You can often use traveler's checks at hotels and restaurants, but even there policies vary between businesses. Consider bringing a couple for security, but don't rely on traveler's checks for all your transactions in Mexico.
Before You Go
Carrying a few credit cards and an ATM card is safer than carrying cash, but inform your bank and credit card company before you go that you will be traveling out of the country. To limit fraud, banks and credit card companies automatically suspend service to cards if they see "suspicious" activity. If you use your card in Seattle on Thursday and then in Puerto Vallarta on Friday, it might trigger a red flag. Take your bank's phone number with you so that you can contact them easily if have any problems while traveling in Mexico.