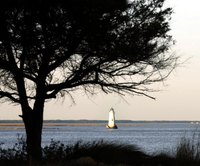 Savannah, Ga., lies conveniently close to the Georgia coast, and miles of Atlantic islands and beaches are within driving distance from the historic city. While the beaches of some of the closest islands, including Ossabaw and Wassaw Islands. are wildlife refuges, public beaches for swimming are also available near the South Carolina and Georgia border.
Tybee Island
Tybee Island, or Savannah Beach, offers beachgoers three miles of uninterrupted beaches just 18 miles from Savannah, on the Georgia coast. The historic town on the island is home to a wealth of cuisine, shopping, boutiques and bars. Many of the bars have live music at night. Beach houses are available for rental for those who wish to stay on the island. The Tybee Pier and Pavilion is a great place for fishing, and holds regular musical and special events. Visit the salt marshes to see bird and wildlife native to the southeastern Georgia coast.
Hilton Head
Hilton Head is a popular resort town 20 miles north of Savannah, in Beaufort County, S.C. In 2012, Conde Nast named it one of the Top 10 Best Islands in the U.S. The island contains several beaches that combine to stretch across roughly 12 miles, and inland there are a great number of shops and over 250 restaurants. Throughout the year, the island hosts various events, including a celebrity golf tournament, several art exhibitions, a farmer's market and the Concours d'Elegance, a classic car show.
St. Simon's Island
St. Simon's Island is one of the 11 barrier islands off the Georgia Coast and is one of the four Golden Isles. Thought the island is the most populous of the Golden Isles, it still offers miles of undisturbed beaches. During the summer lifeguards are on duty to watch over swimmers and dogs are allowed on the beaches. Inland the island offers salons, spas, restaurants and shopping. Charter fishing services are available on the island as well as miles of bike paths. The island is about an hour and a half drive south of Savannah on Interstate 95.
Hunting Island
Hunting Island, S.C., is about an hour and a half's drive northeast of Savannah. Sixteen miles from historic Beaufort, S.C., the 5,000-acre park is one of the area's most popular, with over a million visitors per year. The beach itself provides showers and restrooms, a boardwalk, nature trails, a lagoon and a fishing pier. Visit the nearby Nature Center, which exhibits marine and wildlife, and climb to the viewing deck of the historic Hunting Island lighthouse for views of the ocean. Camping is available and there is a fee for entry to the park.