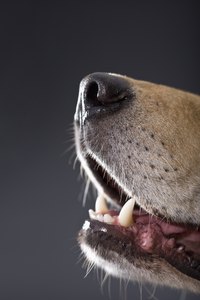 Cow feet -- hooves -- are popular chew treats for dogs, particularly aggressive chewers who quickly gnaw through other types of dog bones like rawhide and pig ears. However, the hard nature of hooves can be dangerous, particularly when it comes to breaking or cracking teeth or damaging your dog's gums. Hooves can also present choking hazards, as well as potential damage to your pup's intestines.
Cow Hoof Dental Concerns
Cow hooves are extremely hard and oddly shaped. With sharp edges, it's possible for a portion of the hoof to penetrate your dog's gums, leading to a potential abscess and infection that can have a number of resulting health complications. Cow hooves can fracture a dog's tooth, which is painful and requires canine dental intervention. Your dog will likely need to have a broken tooth extracted, which requires anesthesia and a monitored recovery period.
Cow Hoof GI Concerns
Because of its thick, hard nature, a cow hoof takes some time to digest, should your dog swallow pieces while chewing. The sharp nature of hoof shards also creates the potential to lodge in your dog's throat, presenting a choking hazard, or to obstruct or perforate his bowels. This can result in costly and painful medical treatment, including surgical intervention. Consumption of large amounts of cow hooves can cause stomach upset in some dogs.
Chewing and Dental Health
Appropriate chewing is important to your dog's overall dental health. Chewing helps a dog self-soothe and relieve anxiety, and it assists with teething efforts of young dogs, relieving the pain associated with new teeth breaking through gum tissue. Chewing can help remove tartar and plaque buildup on your dog's teeth, which, left unchecked, could lead to gingivitis and gum disease.
Safer Alternatives
Hard rubber chew toys provide safe and viable alternatives to hard material chews like cow hooves. You can fill some of long-lasting treats with kibble or treats to make them appealing to your dog over the long term. Such chew bones may be a bit pricier than cow hooves, rawhides and other natural fiber chews, they offer a greater degree of protection against broken teeth and intestinal distress.
Monitored Chewing
Regardless of what type of chewing materials you provide your dog, monitor your pup while he chews. Natural fiber chews can disintegrate or break into smaller, choking-hazard-size pieces. A dog can rip apart a squeaky toys and swallow the noise-making mechanism. Keep a watchful eye on your pup during chew time to ensure his safety.