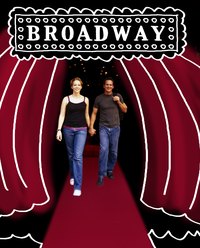 If an evening at the theater in New York calls to mind men in tails and a top hat and women in evening gowns, you obviously have not attended a show in the past few decades. The modern dress theme for Broadway is less "Sophisticated Ladies" and more "Anything Goes," especially in June, when the days are long and the hemlines are short. Even so, you will need to take stock of what makes you comfortable, both physically and socially, when planning your theater attire.
Follow the Crowd
Most New York theaters do not have a formal dress code. So when you attend a Broadway show, you will see all manners of dress, ranging from men in suits and women in dresses to people in shorts, sweatpants, T-shirts or flip-flops. This applies to matinees and evening shows. The casual side might seem even more pronounced in June, as the summer tourists begin to arrive and locals shed their spring layers. If you're one who strives for the median, opt for a business casual look: khakis or trousers with a collared shirt for men and a skirt or pants with a blouse or collared shirt for women. Higher-brow fare such as an opera at the Met tends to attract a better-dressed crowd, while audiences at Off-Broadway or Off-Off-Broadway shows fall on the more casual end of the spectrum.
Find Your Comfort Zone
Dressing for comfort at New York theaters is not analogous to dressing down. Broadway boasts many historic theaters, with grand chandeliers and ornate design. For some, being around elegant surroundings in jeans and a T-shirt can be an uncomfortable experience. Some of New York's seasoned theater-goers still give the stink-eye to those who take dress to the casual extreme, so the self-conscious might prefer to err on the side of formality.
At the same time, you almost certainly will have to walk a few blocks to get to and from the theater, so make sure your shoes are appropriate for walking. New York theater seats also can be rather cramped, so avoid dressing with excessive or bulky accessories because you will have little room for storage at your seat. If you have a large handbag, many New York theaters offer coat check service, and the line should be rather short in June since no one will be looking to slough off their heavy winter coats.
Be Weather Savvy
New York's weather in June can be something of a crap shoot. On average, the days are warm to hot, with an average high of 79 degrees Fahrenheit. Evenings, when most theater events take place, cool down to an average low of 64 degrees. But sometimes summer gets a late start, and the weather in June stays cool and wet, and the month also can bring an early heat wave. Regardless of the weather outside, virtually all New York theaters have air conditioning and can be a little chilly, so you might want long sleeves or a second layer even if it's rather balmy outside.
Dress (Way) Up for Special Events
Occasionally, a New York theatrical event calls for a very specific type of dress. Opening nights for Broadway tend to be formal or black-tie events, although June traditionally is not a peak time for opening nights, since it's just past the cut-off date of the usual Broadway season. June is, however, the time for Broadway's Tony Awards. Tickets are available to the public, and if you go, it's certainly a time to dress to the nines -- it's a black-tie affair. New York, particularly Off-Broadway, also has many "immersive" theatrical events: shows such as "Fuerza Bruta," "Sleep No More" and "Here Lies Love," which require audiences to stand, walk or dance for the entire show. For those shows, comfortable shoes and clothes you can move in well are a must.