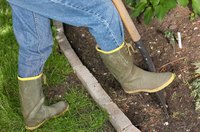 Gypsum is a mineral-based fertilizer material known also by its chemical name, calcium sulfate. In contrast to agricultural lime, gypsum does not alter pH, so it is a valuable source of nutrients for gardens or lawns with alkaline soil. Gypsum also has other beneficial aspects that are not common among similar soil amendments. The proper application rate for gypsum depends on your soil conditions and the nutrient you are trying to supply.
Gypsum's Soluble Nutrients
The most basic form of fertilizer gypsum is finely ground gypsum rock. This natural material contains by weight about 25 percent calcium and 16 percent sulfur, along with small quantities of various other nutrients such as magnesium and iron. Gypsum is sometimes perceived as an expensive alternative to limestone, but gypsum is actually superior to limestone in certain situations. Gypsum supplies calcium without altering pH and contributes significant quantities of sulfur, an essential plant nutrient. Furthermore, gypsum provides these nutrients in a somewhat water-soluble form, which means that they are more readily available to plants, even when broadcast on the soil surface.
A Safer Soil Amendment
Most synthetic or refined fertilizers come with strict application rules that are intended to prevent problematic -- or even disastrous -- over-applications. Excessive concentrations of certain soluble nutrients can quickly lead to chemically imbalanced soil that interferes with plant growth or encourages disease organisms. Gypsum, on the other hand, is only moderately soluble, and it contains nutrients that are not likely to cause problems even when applied in large quantities. Consequently, application rates for gypsum are more flexible, and recommendations will vary according to your particular circumstances.
Applying for Calcium
A bountiful harvest of garden produce might remove 2 pounds of calcium per 1,000 square feet per year. You can meet this calcium requirement by spreading 8 pounds of gypsum per 1,000 square feet. Lawns usually receive calcium in the form of lime applied primarily to correct soil acidity. Lawns, which do not lose large quantities of nutrients through harvested crops, rarely need calcium when pH is adequate. If you believe that your lawn is deficient in calcium but do not want to alter the pH of the soil, apply 1 pound of gypsum per 1,000 square feet and watch for improvement.
Applying for Sulfur
Sulfur is sometimes ignored in the context of plant nutrition, but it is actually considered one of the three "secondary" nutrients; the other two are calcium and magnesium. A productive garden needs up to 0.5 pounds of sulfur per 1,000 square feet per year, which corresponds to about 3 pounds of gypsum. Your lawn might need half this amount if you have evidence of a sulfur deficiency. Sulfur is present in the atmosphere as a pollutant, and in some areas, significant amounts of sulfur are carried down to the soil through rainfall. A soil test will help you to determine if this atmospheric sulfur eliminates the need for supplementation on your part.