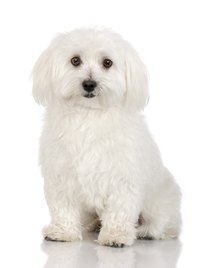 Dogs, like their human owners, sometimes experience deafness, although in varying degrees of intensity. Hearing issues in canines can arise due to several factors, whether because of the normal aging process or even sicknesses such as canine distemper. Some pooches are born deaf. This is known as congenital deafness.
Congenital Deafness Basics
Dogs who are born deaf typically cannot hear due to genetic issues, frequently those related to the coloring of their fur. Deafness can emerge early in dogs, often prior to their ear canals opening. Some young canines are born deaf because their cochleas stop receiving blood, which in turn brings upon the destruction of the nerve cells. The presence of hair cells without pigmentation inside of the ear can lead to this. Dogs who are born deaf never gain hearing.
Breeds With Congenital Deafness
Since deaf dogs often inherit the condition from their parents, certain breeds have predispositions to it. Some of the numerous dog breeds who frequently have congenital deafness are English setters, Boston terriers, American bulldogs, Pekingese, West Highland white terriers, dalmatians, Samoyeds, Saint Bernards, Shetland sheepdogs, Siberian huskies, Australian cattle dogs, English cocker spaniels, Australian shepherds, German shepherds, Italian greyhounds, French bulldogs, Scottish terriers, fox terriers, Japanese chins, Lhasa apsos, Tibetan spaniels, Great Danes and Doberman pinschers. Congenital deafness is not restricted to these breeds, though, and is a possibility in all dogs.
Merle and Piebald
A couple of specific genes are connected to canine congenital deafness. These genes are piebald and merle, both of which involve pigmentation. Piebald coloration is prevalent in the aforementioned English setter breed, while merle coloration is prevalent in the previously mentioned Shetland sheepdog breed. These color patterns are widespread in many of the breeds that are vulnerable to inherited deafness. Dogs with congenital deafness frequently have light blue eyes and pinkish skin, apart from these coat patterns.
Possible Hints of Congenital Deafness
If you're worried that your new puppy might have congenital deafness, look for key signs of hearing troubles in dogs. If waking the little guy every morning is a particularly tough task, it could be because he simply can't hear you. If sound never seems to affect him, whether loud knocks on the door or thunderstorms, it could mean that they don't exist to his ears. Lack of focus in general is often a sign of hearing issues in the doggie world.