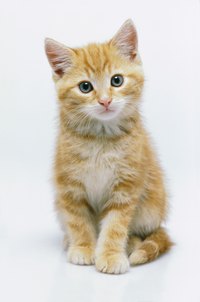 Whether you spent months searching for your kitten or she showed up on your doorstep, now that you've found your perfect feline companion you're looking for the right name. If you want to call your tabby kitten something more original than Tabby, a little creativity and an open mind will come in handy.
Starting Points
Before you pick her new name, there are a few basic things to keep in mind before bestowing a name on your new friend. She'll learn to respond to a one or two syllable name quickly. She'll likely make many human friends, and other people will be hearing and saying her name, so take care to choose something that's not embarrassing or insulting. Some names are more enduring than others, so if you're wary of naming her something that will become out of fashion, ask yourself if her name will suit the dignified cat she'll mature into.
The Tabby Theme
Tabby cats come in four basic patterns: mackerel, classic, spotted and ticked. The mackerel tabby, which sports vertical stripes like fish bones, and the classic tabby, known for its spirals and swirls, are the most familiar types of tabby cats. If your new kitten is a mackerel tabby, you can try Mack for a boy. No matter what type of tabby she is, her color may provide inspiration. The standby name for an orange tabby is Ginger, though most orange tabbies are male. If she -- or he -- is a gray tabby, Gris is French and Spanish for gray. Brown is Brun in French and Marron in Spanish. Other color-related names include Ash, Smokey, Dusty, Cocoa, Sunny, Blaze and Amber.
Personality Traits
If you've spent some time with your new kitten, you may have a good grasp of her personality. If she's playful, she may be the classic Frisky or Busy; Ninja may work if she's particularly graceful in her play. Taz -- for Tasmanian devil -- Havoc and Rascal may suit an energetic kitten. If she's very mellow and sweet, Angel, Buddha, Eros or Bambi are potential monikers. She may be the type to tell you what's on her mind; if she's a talker, consider Gabby, Squeak or Mau. If there's a singer or talk show host you like, such as Conan - particularly good for a marmalade tabby -- Ellen or Bono, go to them for inspiration.
Exotic Names
Maybe your new friend has an exotic flair or perhaps you want something different. There are a number of foreign names that are easy to say and have pleasant significance that may work for your kitten. If she's a pretty girl, in French she's Joli, in Spanish she's Bonita and in Italian, Carina; Beau is a handsome French kitten. If you'll love him forever, Amar means forever in Hindu. If you like the Hindu language, Meena is a precious stone and Asha is hope or life. Other nice Hindu names are Lata and Maya for girls and Isha and Manu for boys. Kai, Mily, and Meka are Hawaiian names suitable for any cat.