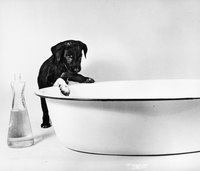 Newborn puppies' mothers typically keep them clean, but as they become independent of her care and begin exploring their environment, they can get into some dirty situations. You can carefully bathe a pup as young as 3 weeks old to remove dirt, odors or fleas from his coat. Make bathing an enjoyable experience for your pup so that as he gets older, keeping him clean is easier for you both in the long run.
When to Bathe Fido
As Fido becomes fully mobile, usually between 3 and 4 weeks of age, he'll begin to run around your home and eliminate on his own, according to DogChannel.com. Your young pup will even start to eat some solid foods, a potentially messy situation whereby he'll likely walk in his food, getting as much of it on his coat as in his tummy. Between weaning, toilet-training mishaps and outdoor adventures, your pup can become dirty and smelly in a blink. If a wipe with a damp washcloth isn't enough to clean away the debris on his coat, a bath is in order. It's perfectly safe to bathe a young pup to keep him clean, advises PetEducation.com.
Pre-Bath Checklist
Prior to bathing your pup, brush his coat to remove tangles and knots, which could become much worse during the bathing process, especially if the dog has long hair. Get all of your bathing supplies -- shampoo, wash cloths and towels -- ready to use before the bath. Pick a shampoo designed specifically for puppies, which will contain ingredients that won't strip away his skin's natural oils or cause tears if it accidentally gets into his eyes. Line the basin with a soft towel so little Fido won't slip around during his bath.
Bath Time Is Fun Time
Make bath time a fun event for Fido, giving him lots of treats and praise during the process to positively reinforce the experience, the American Society for the Prevention of Cruelty to Animals recommends. Place the little guy in your kitchen sink or bathtub filled with just a few inches of warm water. Lather up and massage his coat with a gentle puppy shampoo, avoiding his head. Use a damp wash cloth to clean his face. Rinse him off thoroughly using a sink spray or shower attachment. Place him on a dry towel wrapped around a heating pad to keep him warm and toasty while he dries off, or allow him to lounge in a warm, draft-free area.
Things to Consider
When bathing your young puppy, avoid using flea shampoos. These shampoos contain harsh insecticides, which are usually safe to use only on a pup 12 weeks or older. Don't use human shampoos on Fido because they can dry out his skin and make it itchy. In a pinch, a human baby shampoo can clean your pup's coat without stripping away his natural oils. A typical pup needs a bath no more than once every couple months. Sometimes more frequent bathing is necessary if Fido gets very dirty while weaning or being potty-trained, according to PetEducation.com. Between baths, use pre-moistened pet wipes to keep your pup looking and smelling his best.