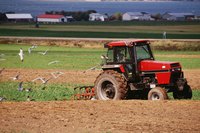 The long life of farm and construction machinery makes replacing parts -- rather the whole tractor -- a major segment of the agricultural equipment industry, according to the International Trade Association. Small independent parts manufacturers face stiff competition from name-brand companies that manufacture original tractor parts. That's why it's important to take a close look at the market to find and use the best strategies for selling wholesale aftermarket tractor parts.
Identify Target Market
Farmers themselves are one potential target market. Selling parts to co-operative farms is another market, and helps you get in front of a group of farmers at once. The global agricultural equipment market represents another opportunity. According to the ITA, several countries rely on the United States for 70 to 75 percent of their agricultural equipment imports, including Mexico, Canada, the European Union and countries in the Pacific Basin, such as Australia and Japan. Another option is to market your products through distributors. Distributors handle all of the marketing and sales and rely on their contacts in the agricultural equipment industry to get your parts into the hands of dealers and aftermarket parts businesses.
Build a Website
Help buyers find your parts by building a website, and optimize it so the site uses key search words related to the parts you sell. If you sell lots of products, include a search field so buyers can look up the part they need. Include information on the make, model and year the tractor was built to let buyers know the part will fit. Become a trusted source of information on the parts you sell by adding a comment section under each part. Then encourage buyers to share their experience and tips for replacing the old part and installing the new one.
Stress Benefits
Selling aftermarket parts means you need to convince buyers your products are as good as the original manufacturer's product. Clearly state your return policy if the part doesn't work or fit property. If you price your products lower than original replacement parts, let buyers know that. Include a lifetime warranty to indicate quality and durability of your parts, especially important if your company isn't well known. Describe your shipping options, such as overnight shipping so buyers don't see a bigger loss in production time than they're already facing with a broken-down tractor.
Get Your Business Listed
Reach national and global markets by setting up listings on Internet sites focused on selling machinery parts. These sites help buyers find parts based on the keywords in your listing, so use "tractor" in your headline to narrow down the results. The listings include a full description of the part, as well as delivery details and warranty. Use the listings to explain what countries you're willing to ship parts to. Explain the minimum order you require, such as a shipping container, 100 pieces or one unit.