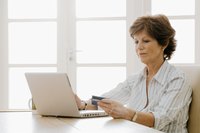 Using Google AdWords campaigns to find prospective buyers is key to helping your website bring in sales. But setting up a cost-per-click campaign can get expensive for small businesses. That's where negative ad words come in handy, helping to make the ads you place on Google as targeted as possible so they appeal to people who truly want to buy.
Know Purpose of The Words
Negative ad words, commonly called keywords, serve many purposes, including giving you more control over who sees your ad. By using negative keywords you exclude words and phrases from search results, narrowing the number of people who see your ad to those most qualified and likely to click on them. This helps reduces your average cost-per-click rate since your ad is less likely to appeal to people who do not plan to buy. This results in an increased rate of return on the investment you made in the cost of your ads.
See An Example
The word "free" is often used as a negative keyword when you want to make money from the products or services you sell through your AdWords campaigns. For instance, if you sell mobile applications, you may want to use the word "free" in your campaign as a negative keyword. That way, your ad does not appear when someone uses the search phrase "free mobile applications." But if you offer a free version to get people interested in buying your upgraded mobile app, you would not use the negative keyword "free" since you do want to attract mobile phone users who want free applications as a way to get them to eventually buy your other version.
Create a List
As you develop your AdWords campaign, write down all of the negative keywords you can think of. These are the words that you do not want your ad to appear under when people search using those terms. Google allows you to have up to 5,000 negative keywords in your list, so you can come up with lots of words. Plus, Google allows you to create 20 different lists, especially useful if you have more than one ad campaign and don't want the same list of negative keywords to affect all of your campaigns. Each time you create an ad campaign, you need to choose the negative words list you want to use with that ad, so give each list a unique, identifiable name so it's easy to pick one of the lists if you must choose from many.
Use These Tips
When you choose negative keywords, be careful to not use so many that few people ever see your ad. Use Google's reporting tools to figure out what words people are using to find and click on your ads. You may discover that some of those search terms need to be added to your negative word list so your ads quit popping up and getting clicked on by people who have no intention of buying.