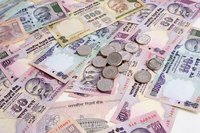 Buying a home is no small purchase; not many buyers have the hundreds of thousands of dollars that it takes to buy one. Because of that, most home buyers apply for a mortgage loan to finance such a purchase. Sometimes, though, buyers can't earn approval for a traditional mortgage loan, and sometimes buyers do have access to a windfall of cash. In such cases, borrowers might turn to hard money loans or make an all-cash offer.
Hard Money Loan
Hard money loans differs from mortgage loans in important ways. One is that they're often made by private individuals instead of banks. Another is that the lenders making hard money loans don't care as much about the creditworthiness of their borrowers. Instead, they analyze the value of the properties that their borrowers want to purchase. If a borrower defaults on the payments, hard money lenders want to make sure that the property they will then take ownership of is worth enough that they can sell it for a high price. They want the price to be high enough to allow them to recover the money they lent out, and perhaps make a profit, when they sell the property. Borrowers taking out hard money loans usually pay higher interest rates than for mortgage loans, and must come up with a higher down payment, often as high as 50 percent of a property's value.
Candidates
People who take out hard money loans might have bad credit that doesn't allow them to qualify for traditional mortgage loans. Other times, investors take out hard money loans as a short-term solution; these loans allow them to buy homes, fix them up, and sell them for higher prices, a term known in real estate as flipping. Other times, homeowners trying to sell a residence will take out a short-term hard money loan -- as a sort of bridge loan -- that allows them to purchase a new home before they sell their old one. Once these homeowners sell their old home, they pay off the bridge loan and take out a traditional mortgage loan in its place.
All-Cash Offer
In an all-cash offer, buyers use cash, not a loan, to purchase a home. Buyers usually either provide a cashier's check in the amount needed to purchase a home, or wire over the necessary funds on or before the real estate transaction's closing. The cash in an all-cash offer does not have to come directly from the buyer. Buyers can borrow the money they need, with many taking out loans on another property they might own or borrowing money from a retirement fund. Sellers will usually require proof from all-cash buyers that they actually have the needed money in their bank accounts. Buyers can provide this proof in the form of bank statements showing their balance.
Attractiveness
Most sellers prefer all-cash offers to hard money loans. When sellers are presented with an all-cash offer, they know that the buyer has the needed funds to close the transaction. A hard money loan -- like all mortgage loans -- could fall apart before closing. Given the choice, most sellers would choose an offer from an all-cash buyer over a similar one from a buyer relying on a hard money loan.