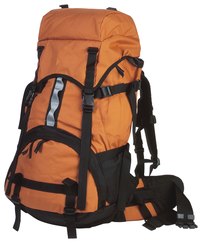 The most celebrated footpath in the United States, the Appalachian National Scenic Trail stretches 2,175 miles and threads its way through 14 states from Georgia to Maine. It is a beautiful hike over countless mountains, passing through valleys, fields and forests and, from time to time, through small towns. But it is also intensely challenging for those relative few who attempt to through-hike it. It tests muscle, bone and brain and, ultimately, a hiker's sheer locomotive drive. Because gravity is unappeasable, it's axiomatic that the less weight you carry, the easier every step of the way will be. Carefully consider every item you'll be hauling with you for several months. Whenever possible, the lighter the better.
Boots
The hike begins here, in a manner of speaking. Your every step, from Georgia to Maine, will land squarely in the center of your boots. Don't be shy about trying on as many pairs as you need to find just the right ones. And even then, don't be surprised if a month down the trail they've given you blisters. To maximize your chances of selecting the right pair for you, make comfort the determining factor. You're better off with boots that feel good but must be replaced along the way (which is likely; the AT is nearly 2,200 miles long, after all), than boots that seem indestructible but are uncomfortable. Also, consider bringing along a pair of light sandals to change into at day's end.
Backpack
Your pack will ride on your back through 14 states and, like your boots, it needs to fit comfortably. The number of pockets and pocket arrangements tends to personal preference, but size should be considered critically. Generally speaking, a backpack of approximately 4,000 cubic inches will carry what needs to be carried for most hikers. One particular danger is overestimating how much you'll need to bring with you, buying a pack that's too large, and then attempting to fill it. Many more people are driven off the AT by carrying too much than by carrying too little.
Hiking Poles
Also called trekking poles, they are virtually indispensable. Poles provide purchase on ascents, stability on descents, and put your otherwise freeloading arms aerobically into the walk when you're hiking flat ground. Poles come in a surprisingly wide variety of designs and expense. Best are those that collapse telescopically, for easy packing when you're using public transportation. That said, you don't need to spend much to get poles that will do the job.
Sleeping Bag
Whether you opt for one that's down-filled or one that's synthetic, a sleeping bag can take up considerable space. Just as the lighter an item can be, the better, add to that the smaller you can pack your bag, the better. Because hiking the AT is typically a warm-weather adventure, you shouldn't need a sleeping bag with a temperature rating colder than 30 degrees Fahrenheit. On unusually crisp nights, do what most everyone else does: wear more clothes to bed.
AT Data Book
Some people carry highly detailed guides of the AT, some carry maps and some carry both. They're all useful, but -- as with everything else in your pack -- they're not weightless and they take up space. If you rely on nothing else to guide you (besides the white blazes that reliably mark the entirety of the trail), then rely on the slender and informative Data Book. Published annually by the Appalachian Trail Conservancy, it provides, to the nearest tenth of a mile, a nearly inexhaustible list of important landmarks from Georgia to Maine. The locations of road crossings, shelters, campsites and water are all recorded in the Data Book.
Stove and Cook Kit
Strictly speaking, you don't need a stove. You can always "go cold" -- meaning, in AT parlance, not cooking at all. But most of us enjoy a hot meal and modern backpacking stoves can be so small and so light (the MSR MicroRocket, for example, weighs just 2.6 ounces and is fueled by a 4-ounce propane canister), that the benefit commonly exceeds the minimal burden. Beyond that, you won't need more than a light pot, a cup and a few utensils.
Tent
A tent is another item that, strictly speaking, you don't need. Between Georgia and Maine, you'll find some 270 shelters, the overwhelming majority of which are free to use. Still, the shelters can become uncomfortably crowded, particularly in nasty weather, and if you're a late arrival at the end of a long day of hiking, you may be glad to have your own private accommodation. It's worth remembering, though, that packing and hauling a wet tent in the morning is its own unique misery. A hammock with a rain fly is an alternative that's become increasingly popular.
First Aid and Hygiene Kits
You're not likely to be called upon to perform surgery on the AT, so keep your first aid kit simple. Buy one ready-made or assemble your own. An assortment of bandages and gauze, a roll of tape, pain killer, an elastic bandage for sprains, tweezers and an antibiotic ointment are the basics. A small magnifying glass can also be handy. In the event of serious injury, the most important item in your kit could be your cell phone. Save its battery by keeping it turned off until you need it.
You're going to spend a lot of time dirty; hiking the AT is a dirty, sweaty job. Carry a small bottle or cake of biodegradable soap, toothbrush and toothpaste and a fast-drying camp towel. Women should be sure that sanitary items are also biodegradable. And don't forget your toilet paper.
Clothes
You don't need a lot. In fact, clothing is something that many novice hikers carry far too much of and come to regret. Your wardrobe should include a waterproof parka, a hat, rain pants, two pairs of shorts, one pair of light long pants (best if the pant legs zip off at the knees, giving you two items in one), two shirts, two pairs of socks and underwear and a fleece pullover. Bring gloves if you begin (or end) your hike when the weather is cold. And that's about it. Wear one combination of shorts and shirt every day. Get used to them being dirty. Save the second, clean combination for rest days in towns. You'll find that the local folks appreciate your effort to look presentable.
Indispensable Miscellany
Be sure to carry a flashlight (headlamps, which free your hands, are most popular), a good knife, a compass, matches or a lighter and, in case of real emergency, a shrill whistle. Duct tape seems to fix just about everything, so wrap a few feet of it around your hiking poles. A small, cheap sewing kit will keep your clothes in one piece until you reach a town. Bring your identification and a debit or credit card as well as a small amount of cash. And when the rain falls and you can't bring yourself to leave the shelter, you'll be glad to have a good book, a small music player or a deck of cards in your pack.