Owner-occupied homes are converted to rental properties for different reasons. Some investors enter the rental business by converting their old residence into a rental property upon purchasing a new home. Converting a home to a rental property is also an option when you have to relocate but have been unable to sell your house. Regardless of the reason for conversion, landlords who are just opening the door on the rental business need to understand what changes when a property becomes a rental.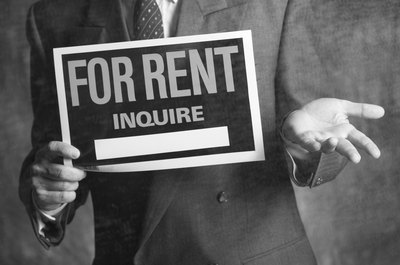 Housing Regulations
Rental properties are subject to local, state and federal regulations. Examples of state and local regulations include building codes specific to rental properties, zoning ordinances, rent controls, and state anti-discriminatory laws. Your city housing or planning department will be able to guide you in the proper direction. Federal housing laws, such as the Fair Housing Act, will also apply to your rental activities. For example, discrimination against tenants based upon race, color, sex and familial status is illegal. You can find out about federal housing laws on the U.S. Department of Housing and Urban Development's website.
Taxes
Rental properties are treated differently than owner-occupied homes under federal tax law. Renting a house is a business activity; you'll be able to deduct ordinary and necessary business expenses related to your rental. Examples of deductible expenses may include maintenance, repairs, interest on financing, and property management fees. You will not be entitled to deduct interest off your mortgage based on an individual deduction, but you may be able to do so as a business expense. Hiring an accountant or using specialized tax preparation software is a good idea.
Leases
You will want to draft a lease, which is a contract between you and your tenants that outlines their rights and responsibilities as well as your rights and responsibilities concerning the rental property. Common provisions in a lease include the term of the lease, rental price, security deposit, utilities, repair and maintenance responsibilities, pets, rights of entry and inspection, subleasing, and grounds for lease termination. You may want an attorney to draft a lease form that fits your needs, or you may be able to use standard lease forms that conform to the relevant laws of your state.
Insurance and Liability
Landlords can be held responsible for injuries to tenants and their guests. Liability for injury is generally due to failure to properly maintain the property, which is why a lease provision requiring the tenant to provide you notice of a dangerous condition is used. Once you receive notice of a potential dangerous condition, fix it. Additionally, insuring against property damage and liability is a good idea. You may wish to form a limited liability entity, such as an LLC, to hold the property and further shield you from personal liability.