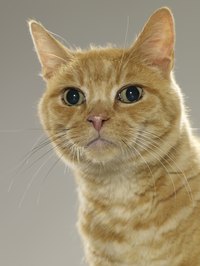 The effects of neutering a male cat can be significant, from reducing stressful hormonal behaviors to preventing feline pregnancies. Despite these benefits to cats and their communities, the surgery is relatively direct and basic. Cats often bounce back swiftly and smoothly from neutering.
About Neutering Surgery
Neutering is a standard surgery in which the testicles are removed after a tiny cut is made into the scrotum. Stitches normally aren't required, and the cat tends to heal quickly on his own. Low-level anesthesia is used for the surgery. This neutering usually is a brief process.
Smooth Recovery
Male cats usually can go home the same day of the surgery, with no need for an overnight stay. At first they're often a little dazed and tired because of the anesthesia. Recovery is generally speedy, and within a week they usually start behaving as if they hadn't even had surgery.
Healing and Potential Problems
Give your precious pet's body sufficient time to fully heal, even if he seems OK soon after coming home. Closely monitor him for roughly 10 days post-surgery. Don't let him outdoors during this period. It usually takes between seven and 10 days for the incisions to heal. Regularly examine his body for indications of any problems, such as infection. Some signs to pay attention for include unusual swelling or redness where the cuts were made, unpleasant smells, breathing troubles, diarrhea, unusual bleeding, appetite loss, vomiting, reduced energy for more than a day, problems eliminating, uncharacteristic quiet behavior, and temperatures of more than 102 degrees Fahrenheit. If you observe any of these symptoms, alert your veterinarian immediately.
Post-Surgery Care
Before you bring your cat home from the clinic after neutering, speak to the veterinarian about how to take care of him during the healing process. This typically involves everything from temporarily minimizing his physical exercise to designating a calm and silent haven for your cutie to rest in, perhaps away from other household pets. Remember that some things can prolong the time needed for healing. If your cat licks his cuts, that can delay healing. So can dirt on the cuts. Ample relaxation is key for a just-neutered cat's swift and comfy healing and recovery.