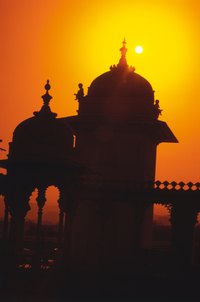 Lieutenant Colonel James Tod, the English army officer and historian, described Udaipur in his "Annals and Antiquities of Rajas'han" in 1828 as the "most romantic spot on the continent of India." Even in the regal Indian state of Rajasthan, famed for the splendor of its forts and maharajahs' palaces, the beauty of Udaipur stands out. Its seven interconnecting lakes, little islands and lush greenery set it apart from the more arid desert cities in the area.
Lake Palace
The ice-white marble Lake Palace appears to float in the middle of Lake Pichola, its lights dancing on the waters at night. Built in 1746 by Maharana Jagat Singh II as a summer retreat, this elegant palace was featured in the James Bond classic "Octopussy" and is now a Taj hotel. Its ornate courtyards, gardens and candle-lit fountains are only reachable by boat if you are a guest. Book dinner at the hotel and you will be greeted at the quayside by an elegant, regally dressed boatman who will transport you over the waters to this magical building.
City Palace
Looming over the lake is the largest palace in Rajasthan, the City Palace, a deep ivory building that turns amber at sunset. First built in the 16th century by Maharana Udai Singh II, the city's founder, it is an eccentric collection of buildings created by successive rulers, brimming with ornate balconies, towers and cupolas. The rooms are packed with treasures that offer an insight into the opulence of the maharajahs, from dazzling peacock mosaics and stained glass windows, to the seven arches where rulers were weighed on giant scales. Their weight in gold was then shared amongst their people.
Crystal Galleries
Visit the Fateh Prakash Palace to see the extraordinary Crystal Galleries. In 1887, Maharana Sajjan Singh was so taken with English crystal that he ordered entire furniture sets from F&C Osler & Co in Birmingham. The extravagant collection includes the usual table decorations, alongside chairs, tables, sofas and even a rather uncomfortable looking cut-glass bed that he never slept in, as it arrived after his death.
Bagore-Ki Haveli
Watch Rajasthani dancers twirl during evening performances at the 18th-century Bagore-Ki haveli, or mansion, near Gangaur Ghat on the edge of Lake Pichola. Built by Prime Minister Amir Chand Badwa, its 138 rooms, set around courtyards, house a variety of cultural displays, including an interesting gallery of contemporary and folk art, and the world's largest turban.
Jag Mandir
Shah Jahan, son of the Mughal emperor Jahangir, took refuge in Jag Mandir after leading an unsuccessful revolt against his father. Legend has it that the palace was his inspiration for the Taj Mahal tomb he built for his wife. The 17th-century palace on an island at the southern end of Lake Pichola is made from yellow sandstone and is lined with marble and crowned with a dome. It is open to visitors and offers a daytime cafe and elegant evening restaurant.