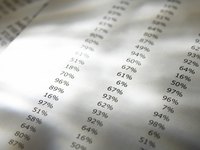 A thorough examination of customer data can deliver significant results when determining which promotional efforts, pricing strategies and product placement tactics are the most effective. Businesses ranging from food manufacturers to media producers use traditional market research techniques to assess consumers' opinions and ideas. While these techniques are still effective at determining a solid marketing strategy, advances in technology have enabled online marketers such as Amazon to examine customer data at a more granular level. These data analysis methods are known as "data mining."
Data Mining Techniques
Data mining employs statistical processes to detect correlations between various factors in large sets of data. These methods use sophisticated mathematical formulas to break down the components of the data sets and learn about how they interact. These formulas require the use of computers with superior processing power to analyze data sets measured in the thousands of gigabytes. The results of data mining analysis frequently afford businesses a level of understanding on the relationships between their marketing efforts and the purchasing habits of their customers.
Data Mining Examples
One of the pioneers of data mining in marketing is online retail giant Amazon. When a customer creates an account and makes a purchase, the Amazon databases save their purchase information. When the customer returns to the site, Amazon presents that customers with recommendations based on their prior purchases. For instance, if a customer purchases a book on the web page formatting language HTML5, Amazon will recommend purchases for other web page programming languages, such as CSS3, ASP.NET, PHP and JavaScript.
Traditional Marketing Research Techniques
While data mining involves the analysis of compiled data, traditional marketing methods revolve around the techniques used to gather that data. Traditional marketing techniques take an interactive approach in gathering data, with methods such as interviews, focus groups and surveys of various types of potential customers. These techniques call for less statistical analysis and more of an intuitive approach. Data mining examines trends and correlations, while traditional marketing examines the customers' emotional states and inherent attitudes toward products.
Traditional Marketing Research Examples
Focus groups are a staple of traditional marketing. Many media companies, including film studios and television producers, use focus groups to determine the potential success or failure of their upcoming projects. At the MGM Grand Hotel in Las Vegas, CBS holds regular focus groups for TV series slated for their upcoming fall schedule. The diverse crowds in Las Vegas enable the studio to gather data from a wide range of viewers. In 2010, advertisers such as PepsiCo, Hershey and McDonald's began using the facilities to test their own ad campaigns.