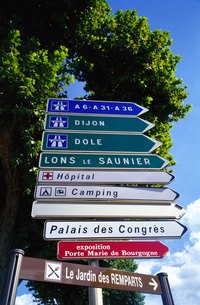 If you have been putting off a trip to France because you fear it's too expensive, you might want to start packing. As long as you avoid the crowds of tourists and inflated prices during the summer season, it can be an affordable and memorable getaway. Book your flights and hotels when prices are low and conserve your euros by eating locally and taking advantage of free and low-cost activities while you are there.
Fall and Winter Windfalls
Summer is the most expensive time to travel to France, but by the time September rolls around, the airfares are cheaper and hotels are offering better rates to attract lodgers. The French, returning from their August vacations abroad or at the Riviera, call early and mid-September "la rentree." Frommer's advises that you avoid Paris in the first two weeks of October during even-numbered years because the auto show drives up the price and demand for hotel rooms.
Airfares to and from France are lowest in the winter. Promotions on hotel rooms abound, unless you plan to ski in the Alps. For best rates, avoid hotels hosting travel groups, trade fairs or business event, because rates will be higher.
Springtime in Paris
The best time to visit France is between April and June, says Frommer's, and not just because it's cheaper. The weather is appealing, and you won't have to wait for a prized seat at an outdoor cafe as you likely would in the summer. While airfares and hotel rooms may be slightly higher than they are in the fall and winter, the rates and fares are still far below what you would pay in the summer.
The Art of the Deal
Research airfare deals and offers on hotels well in advance of your desired travel time. Hundreds of online travel sites are competing with each other for travelers, and they offer discounts during the off season. You can sign up for notifications and newsletters so you'll know when prices drop or sales are advertised. It will also be easier for you to cash in any reward miles or vouchers from frequent flier or preferred travel plans outside of the summer months because those seats and rooms will not sell out as quickly.
Exploring on the Cheap
Once you arrive in France, you can explore pretty cheaply as long as you make good choices. Instead of dining out at expensive restaurants for every meal, buy a loaf of crusty French bread, a bit of cheese and a bottle of wine for occasional outdoor picnics. Spend time in cathedrals and churches that are free to enter, including Notre Dame in Paris. Instead of an American breakfast, grab some fresh fruit to enjoy while you stroll through a park or one of the outdoor markets in Nice, Dijon or any other French city or town you happen to visit. Use public transportation instead of renting a car, especially in larger cities and towns serviced by bus and train routes.