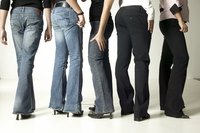 Cotton offers comfort, durability and porous airiness for a wide variety of clothing styles. It is also the most common fabric used to make jeans. Cotton is produced by stripping the cotton fibers off of the cotton plant with a gin. These fibers are then processed and squeezed through a series of machines to produce a soft, malleable fabric great for dresses, pants and shirts. Cotton jeans will inevitably face some wear and tear if they are your favorite pair.
Washing Jeans
Washing jeans in cold water when they are first purchased encourages the fibers to soften and will make jeans much more comfortable to wear. New jeans often have a stiff texture, which can be a challenge to break down. Repeated washing will encourage jeans to soften and remove some of their initial color while also encouraging fibers to loosen and slowly stretch.
Shaping to Your Body
Cotton jeans will loosen up and shape to your body the more you wear them. Many like to wear their jeans for several weeks or even months between washings to create a more exact fit. This process will definitely stretch the jeans and alter the initial shape of the cotton fibers. The jeans you walked out of the store with will have new shape and texture in less than a month if you wear them regularly.
Wear and Tear
Jeans made of cotton will also stretch in key areas, such as the knees, crotch, back pocket area and any seams that are put under stress. The stretching and loosening of the fibers from regular wear can often result in worn-out seams and small tears. Buying jeans that fit correctly and are not too constrictive will help with this problem.
Reshaping Jeans
Cotton is also known for its ability to reshape and tighten up with washing. Washing the jeans in warm water will reshape the cotton and tighten up the fibers if you feel that your jeans have become too loose from a lot of wear and tear. The reshaping process will only last for a couple of wears before the fibers loosen up a bit. It should also be noted that cotton jeans blended with elastic fibers for stretch will be less likely to stretch and reshape from wear and use.