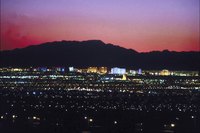 Las Vegas is often referred to as an adult playground, and while the desert city certainly has its fair share of casinos, spas and decadent restaurants, the arid landscape is also home to more than a few prime hiking spots. When you tire of rolling dice in the air-conditioned indoors, head to the great outdoors for a refreshing hike. You won't have to travel too far from Las Vegas to find hikes that range from easy to challenging.
Red Rock Canyon
Only about a 15-minute drive from the strip, Red Rock Canyon has several hikes available in varying degrees of difficulty. Stop by the visitor's center and pick up an area map to learn more about the best trials. One of the most popular trails is the easy three-mile Pine Creek Canyon trail that takes hikers by the ruins of an old homestead and along the banks of Pine Creek. The slightly shorter Ice Box Canyon trail is ideal for summer months since most of the trail remains in shade for most of the day, while novice hikers and children can get introduced to the sport on the easy .75-mile Lost Creek trail. The self-guided trail includes a hidden waterfall, petroglyphs and spectacular views of the surrounding Mojave Desert.
Lake Mead
Created by the construction of Hoover Dam, Lake Mead is a popular recreation area less than an hour from Las Vegas. Because it gets very hot at Lake Mead during the summer, hiking is best reserved for the winter and early spring months. Ranger-led hikes can be arranged through the Alan Bible Visitor Center, where you can also pick up trail maps. Take the longest six-mile trail or one of the other shorter trails that begin at the visitor center. Other trails through the vast expanse will take you up rock formations and into parts of the Mojave Desert inaccessible by car.
Mount Charleston
Known to locals as Mount Charleston, the Spring Mountains are part of the Humboldt-Toiyabe National Forest and just a short 30-minute drive from downtown Las Vegas. With trails winding throughout the 316,000 acres of mountains and landscape, there is a hike trail for every fitness level. Easy hikes include Little Falls Trail, a 1.5-mile round trip hike to a hidden waterfall, and Bristlecone Trail, a five-mile round-trip hike with plenty of autumn foliage. Two trails up to Charleston Peak, Mount Charleston's highest point, are challenging enough for advanced hikers at about 16 miles each round trip. Take either the North or South Loop Trail to the top, although the South Loop is closed until 2014.
Valley of Fire
The large multihued monoliths of sandstone give Nevada's oldest state park its name. Located just under an hour from Las Vegas, Valley of Fire State Park has several day hikes through the park that will take you past Native American petroglyphs and natural beauty such as petrified wood and sand that has slowly been molded over thousands of years into odd shapes such as elephants and human faces. The visitor center has information about the hiking trails, including their length and terrain.