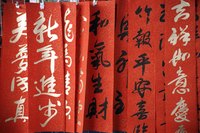 The 15-day celebration of the Chinese New Year provides plenty of opportunities to make your restaurant the place to be to celebrate the event. Whether you run specials or offer events that last the entire 15 days, or plan to promote just the New Moon on the 1st or the Lantern Festival on the 15th day, using a variety of promotional strategies gets you in front of as many prospective diners as possible.
Personal Invitations
Send personal email invitations to customers who signed up to be on your email list. Keep a pile of invitations near the cash register, too, and as guests pay for their food, hand them one of the invites to your Chinese New Year event. If your patrons pay at the table, ask your wait staff to bring an invitation with the check. If you know the customers' names, personalize the invitations by adding their names to the envelopes.
Advertise Special Menus
Place ads in local papers, and list any special dishes or menus you plan to offer during the celebration. Use the event to encourage new patrons to give your restaurant a try by offering a coupon good for specific times and days during the Chinese New Year. Mention the dates and times when you plan to serve from special menus or have entertainment related to the holiday.
Banners
Create and place promotional banners above your restaurant and near the door that promote the events you plan to hold. Include the dates of the events on your banner so people can make plans to dine at your restaurant during that time. Add imagery related to the near year, such as dragons or "Happy New Year" in Chinese characters.
Publicity Campaign
Send a press release to the local media to announce your menu and activities. Get more coverage by using the press release to teach people facts about the Chinese New Year, such as how the Chinese calendar is slightly different, so the New Year occurs on different dates each year. Explain why your restaurant is so interested in promoting the holiday. For instance, mention how the event is considered a family affair, and you want to share it with your patrons. Describe any traditional foods or beverages you plan to serve and why -- for example, yuan bao cha is a tea that is considered a lucky food during this holiday.
Social Media
Use your Facebook and Twitter pages to post about the event and to educate people about the meaning of the Chinese New Year. If you test recipes to prepare for the event, take photos and post them to your page so people can see how delicious the food looks. Talk about the traditions observed during the event, such as the Lantern Festival, which is held on the fifteenth day of the New Year.