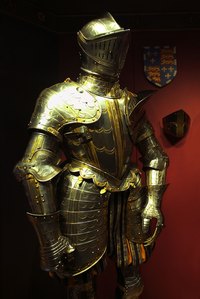 Medieval and Renaissance festivals provide a window into a vanished past through reenactments, costumes and period-influenced crafts. Whether you are a medieval enthusiast with your own costumes and accessories, or someone who just enjoys a festive atmosphere, these events have plenty of entertainment, games and food. New York state hosts four of these annual festivals, each of which promises to transport attendees into a world of myth and magic.
Sterling Renaissance Festival
The festival in Sterling, New York was chosen as one of the Travel Channel's Best Fairs and Festivals. Visitors travel back in time to 1585 Warwick, England, where they experience the spectacle of dozens of performers, musicians and professional actors. This festival accurately re-creates the atmosphere of an Elizabethan-era English village, complete with a jousting tournament and parade. The Sterling Festival Marketplace features artisans from around the country who sell quality handmade goods. Several food vendors offer specialties such as steak on a stick, pita pockets and a variety of alcoholic beverages. The Sterling Renaissance Festival begins in early July and continues through mid-August.
Hawk Creek Wildlife and Renaissance Festival
The Hawk Creek Wildlife Center in Buffalo organizes this Renaissance festival with a special emphasis on the art of falconry. As a themed fundraiser for the wildlife center, the Wildlife and Renaissance Festival has falconry demonstrations, medieval-style reenactments, crafts and food vendors, and period entertainment. Visitors may cheer for the knight of their choice in a jousting tournament. The Dragon Scavenger Hunt invites children to explore the truth behind myths about dragons. This wildlife-centric Renaissance event occurs over two consecutive weekends in July.
New York Renaissance Faire
The New York Renaissance Faire in Tuxedo Park provides an authentic adventure in Elizabethan England. Set within the magnificent groves of the Sterling Forest, this festival has games, rides, crafts, music, food and dancing. Themed performances by troupes such as the Crimson Pirates and Cast in Bronze highlight the sounds of the Renaissance, while magicians and acrobats re-create a traditional minstrel show. The Artisans of the Shire marketplace presents wares and demonstrations of blacksmithing, glassblowing, leatherworking and pottery throwing. Held on weekends from early August until late September, the New York Renaissance Faire promises a fun and educational experience.
Medieval Festival at Fort Tryon Park
This free one-day festival is held in late September at New York City's Fort Tryon Park. The City of New York subsidizes the event, which has occurred annually for more than 25 years, in recognition of its cultural value. The Medieval Festival is staged near the Cloisters, a renowned museum of medieval art on north Manhattan Island. Festival organizers transform the entire Fort Tryon area into a medieval town, with performers and guests alike dressed in period costumes. Authentic medieval music, dance and magic performances comprise the entertainment, and the day concludes with a joust between fully armored knights on horseback.