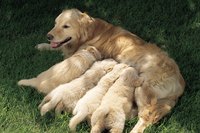 A mother dog will be busy with her puppies after giving birth, but it is vital that she receive nutrition and liquids to keep her healthy and enable her to provide milk for the litter. She can also take regular bathroom breaks once whelping is complete.
After Whelping
Your mother dog may need to go outside soon after she finishes delivering her litter. If she looks restless in the whelping box or uninterested in the pups that have arrived, she may have another puppy to birth. A bitch will usually deliver puppies at 15- to 45-minute intervals, but occasionally it can take up to three hours between puppies. If you think your bitch may have another puppy to deliver, you can take her outside on a leash for a short walk to potty. Take a clean towel with you in case a puppy arrives, however.
Fluids and Food
Offer your bitch water as soon as she finishes giving birth. She will need extra fluids to produce enough milk and colostrum for her new litter. Once she is settled in the whelping box and looks relaxed and comfortable with her puppies, prepare some food to offer her. Keep the initial amount small, and offer more in several hours. Her first meal can include some cottage cheese and canned dog food mixed with puppy kibble.
Feeding the Mother
Your nursing mother will need additional nutrition to feed her puppies after giving birth and while she is nursing. She is the only source of food for her litter for three to four weeks. Increase your bitch's daily food roughly 25 percent for each puppy she has or up to three times her normal amount while she is nursing. Offer meals at least two or three times a day. Use a high-quality puppy kibble, which you can combine with canned puppy or dog food, cottage cheese or yogurt. A new mother may be reluctant to leave her litter, so you may have to offer her first meals in the whelping box.
Potty Breaks
Take your mother dog outside on a leash to relieve herself when you are sure she is done whelping. She should go outside at her regular potty times, on a leash if necessary. She will not want to be away from the puppies for long, but she should keep her regular bathroom schedule. Keep an eye out for any unusual or foul-smelling discharge. Call the vet if you see this or if she appears to be uncomfortable. While she is out of the whelping box, keep the puppies warm for the first two weeks with a heating pad or heat lamp designed for this purpose. Keep the whelping box in a quiet place out of any drafts.