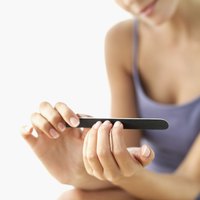 It's easy to forget to file your nails, or to brush it off altogether. However minor a task it may seem, filing your nails is a pretty important undertaking. Filing is beneficial not only to the look of your nails, but to your health and overall appearance as well.
Straighten Up, File Right
Filing is definitely good for your nails -- when it's done properly. It's safest to file your nails when they are completely dry, as moistened nails flake off easily when filed. Use an emery board, as opposed to a metal one; metal files are harsh and can cause further flaking of the nails, while emery boards are more flexible and gentle on the nails. File in one direction, from the corners to the center of the nail tip. Seesawing, or filing from side to side, can cause nails to split.
Filing Strengthens Nails
Nip nail blunders in the bud by filing your nails into a protective shape. The most protective nail shape is the oval, as it eliminates any sharp edges that can snag and cause further breakage. Thea Callen, owner of the NYC nail salon chain Nails, Inc., says that an oval shape is also "the most practical," and advises mimicking the natural curve of the cuticle to achieve this shape.
File for Neater Nails
Daily impact can cause nails to tear, and time can cause the edges to grow jagged and uneven. Filing your nails correctly helps to smooth the tips and restore a smoother, neater look to your nails. Neatly filed nails contribute to a clean and professional overall appearance.
Filing Is in Fashion
While some choose to shape their nails for strength, many like to change their nail shapes to stay in fashion, altering stylish shapes to flatter their hands. Stylish nail shapes range from round to square to oval to "squoval" -- a squared-off tip with rounded corners -- and they often change with the season alongside clothing styles.
Healthy Habit
Filing your nails regularly gets you into the habit of looking at your nails, which can help you detect if certain changes take place. Mayo Clinic staff recommend watching for changes in nail shape or color; pain or bleeding around the nails; thinning or thickening of nails; and separation of the nail from the surrounding skin. If you notice any of these changes taking place, see your primary care physician or dermatologist for help; he can diagnose problems such as infection or anemia.