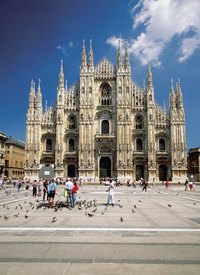 Cathedral building began in earnest around the 12th century across Western Europe, for both spiritual and practical reasons. While looming spires and soaring buttresses provided a dramatic display of religious devotion, the most ambitious projects were also a means of showing off individual power and finding something to do for skilled stone masons who had run out of castles to build. A correlation should not automatically be made between cathedral size and splendor: Paris's Notre Dame, Moscow's St. Basil's and Barcelona's Sagrada Familia are all comparatively small, despite their iconic status. Note, too, that a true cathedral has to house a bishop, which a basilica such as St. Peter's, does not.
Seville
Dating from 1402, Seville's Gothic-meets-minaret masterpiece is Europe's biggest cathedral, and the resting place of Christopher Columbus' bones, although other cities also make the same claim. In an act of symbolic triumphalism, the 443-foot-long cathedral was built on the site of a former mosque following the defeat of the Moors.

Milan
Gothic cathedral construction came to Italy a century or so after it originated in France. It was worth the wait. Dominating Milan's main "piazza," the looming façade of the Duomo represents one of the most famous buildings in Europe, according to Touropia. Dating from 1386, the Cathedral took five centuries to complete.

Liverpool
Whereas many European cathedrals set the initial tone for their city's growth, Britain's largest cathedral was finished in 1978, adding a late flourish to a city which had already made its name through shipbuilding, The Beatles and soccer. The Vestey Tower stands 331 feet high, while more than 2,000 people can pack into the Central Space.
Saint Sava
One of the few European cathedrals not aligned to the Roman Catholic faith, Saint Sava Serbian Orthodox Cathedral dominates Belgrade's landscape, with its Serbian-Byzantine domes reaching 230 feet at the highest point. A staggering 10,000 worshippers can fit into the church, with the choir alone standing 800 strong.
Cathedral of Our Lady, Antwerp
Construction on Antwerp's tallest building began in 1352, and the church became a cathedral two centuries later. The 405-foot tower incorporates 47 bells, while the interior houses masterpieces by Flemish Baroque painter, Paul Rubens. The capacity is 2,000 people, with hundreds often turning out to hear recitals on the Metzler organ.

Cologne
Once the tallest building in the world, and still Germany's most visited landmark receiving 20,000 tourists a day, Cologne Cathedral presents a striking Gothic façade with two majestic spires. Construction began in 1248; some 600 years later, work was finished.

Amiens
One of the largest classic 13th century Gothic cathedrals, Amiens' own Notre Dame soars higher than both Chartres and Reims, with a ceiling at 137 feet. Dating from 1152, Notre Dame stands in three tiers with an imposing façade flanked by two towers adorned with statues.
St. Paul's
Designed by Sir Christopher Wren, St. Paul's Cathedral in the heart of the City of London has served as a fitting venue for ceremonial events including royal weddings and state funerals. The current cathedral was built in 1675 on the site ravished by the Great Fire of 1666. The distinctive dome rises to 364 feet and includes the famous Whispering Gallery.

Zaragoza
The Basilica-Cathedral of our Lady of the Pillar in Zaragoza, Spain, shares city cathedral duties with the equally impressive La Seo. Built in 1681 in a Baroque style, the cathedral's construction blends four towers and eleven cupolas, with interior frescoes painted by Francisco Goya.
Chartres
Dating from the late 12th century, the UNESCO World Heritage site of Chartres marks the acme of French Gothic endeavor. The cavernous nave is complemented by the largest collection of stained glass windows in the world and two dramatic spires, the taller of which reaches 377 feet.