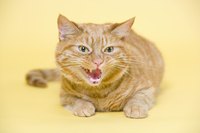 Introducing a new cat into your household can be an enjoyable and rewarding experience for both you and your resident cat. It may take some time for your old cat to adjust to the new addition, so have realistic expectations and make advanced plans to make a slow and controlled introduction. While they might not become fast friends, in time they should at least learn to tolerate one another.
Pre-Introduction
Don't just spring a new cat on your resident cat. Give thought to whether the new addition has a temperament similar to your existing kitty. For example, a spoiled, middle-aged cat who has had the run of the house might not take kindly to a frisky youngster. On the other hand, a young adult cat with a friendly demeanor may take kindly to just about anyone. Once you decide to proceed, get new bowls, a litter box and a scratching post for your newbie cat and bring her home in a carrier.
Isolation Introduction
Put your new kitty in a room by herself for a few days, and include her new things. This will give her an opportunity to explore and get accustomed to you and to her surroundings before getting introduced to your resident cat. Feed your cats simultaneously on either side of a closed door to get them associating food -- a positive thing -- with each other's smells. If all goes well, let them share a long plaything, like a string with feathers, under the door.
Changes Sides
After a few days of gradual introduction, let the new cat explore the main household -- one room at a time -- and place your resident cat in the newcomer's isolation room. This allows both cats to explore the others' territory and smells. Play with each of them in their respective areas to ensure they both get enough love and attention. Be prepared for a bit of territorial behavior on the part of your resident cat -- she may mark her territory by peeing on your new cat's things.
Caged Introduction
After a day of changed territory, place your new cat in her carrier in her original room and let your resident cat stay put. They'll examine each other through the cage door, and there may be some hissing or paw-swiping. This is to be expected. If all goes well, let the cats check each other out face-to-face. Incorporate a fun activity, like play or treats, to positively reinforce the connection. If the cats get overly physical, use a broom to gently separate them into separate rooms without getting hurt.
Ongoing Bonding
Continue to repeat the introduction until the cats begin to tolerate each other. Always give equal doses of attention so neither feels slighted. Your cats eventually will get used to one another, but you may need to facilitate positive exchanges initially to get them warmed up.