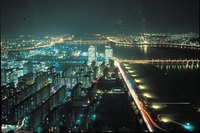 Renowned for its clubs and parties, Seoul has become a top destination on the international dance-music circuit. Most of the best venues are found around Gangnam station, a subway stop in south Seoul, or in the Itaewon district. Weekends in this area feature all-night events with lines for the top clubs stretching down the block. Whether you want a single evening out or are interested in breaking into the party scene, these clubs offer hot music in stylish atmospheres.
Club Rococo
Located in the middle of the vibrant Itaewon district, Club Rococo was chosen as one of CNN Travel's "Five Best Clubs in Seoul." Housed in the basement of the chic Imperial Palace Hotel, Rococo debuted with a bang thanks to its feature in a music video from Korean pop-star G. Dragon. Like most venues in Itaewon, Club Rococo attracts a diverse, multicultural crowd and serves as an excellent place for tourists to mingle with locals. With a small dance floor, Club Rococo gets packed on the weekends. Luckily, the club provides ample seating for those who want a rest, or who simply want to observe all the activity.
Club Answer
Another of the top five selections from CNN Travel, Club Answer in the Gangnam district dominates the Seoul electronic music scene. Found in the hip Cheong-dam shopping area, Club Answer has featured international acts like Justice and Deadmau5. This three-story club has a main-floor stage and dance space, while the second floor hosts VIP tables and a third floor offers private rooms. The strict dress code at Club Answer makes it the perfect place to end an elegant night out on the town.
M2
This club, highlighted by "Lonely Planet," has high ceilings and excellent light arrays in a unique, underground environment. Located in Hongdae, a student neighborhood across the Han River from the Gangnam district, M2 attracts a Korean celebrity clientele and is an excellent place for people watching. The club prides itself on sets full of the latest electronic and house music. M2 stays open all night, every day of the week, and with many theme nights and a packed event calendar, M2 always offers a unique experience.
Club Eden
CNN chose Club Eden as one of its "Top Three Hottest Clubs in Seoul." This Gangnam district destination fills a space next to the Ritz-Carlton Hotel, which offers insight into the clientele and opulence of the venue. With Seoul's largest dance floor, Club Eden attracts a fashionable crowd whose music tastes encompass tech house and minimalist electronica. Club Eden houses a state-of-the-art sound system to keep the party lively all night long, and patrons must rent table packages on either the first floor or second floor VIP area. As one of the most luxurious clubs in Seoul, Club Eden prides itself on impeccable interior design and an exclusive atmosphere.