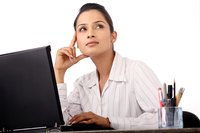 When you're shopping for a new blouse, the options are often endless. There is a wide array of colors, patterns, styles and fabrics to choose from, and those features often get the most attention from shoppers. However, there's another detail that you should be paying attention when it comes to blouses -- the neckline. Just as with other features, there are plenty of neck style options. Some have a more polished, formal look, while others have a casual, relaxed feel --there's a neckline to fit any occasion.
Straight
A straight collar is usually the traditional neckline for a woman's button-down blouse. The collar has two points on either side of the button placket with a small spread between them. It has a fairly formal look and works well under suit jackets and blazers, so it's an ideal option for the office and other professional situations. While a straight-collar neckline usually has a dressed up look, some casual blouses also feature it -- denim, chambray and flannel shirts often have straight collars.
Mandarin
A blouse with a Mandarin neckline features a short, stand-up collar that draws inspiration from Chinese fashion. The length around the entire collar is straight, with the edges above the center of the button placket having either a straight or rounded shape. Like a straight-collar neckline, it can give a blouse a formal look that's appropriate for work. However, its unique look makes it an ideal option if you want to stand out while still looking professional. You can also find casual Mandarin-collar blouses, though, which have a looser fit and work well with skinny jeans or leggings.
Peter Pan
A Peter Pan collar gives a blouse a decidedly feminine look, and tends to have a more casual feel than a straight or mandarin style. Like a straight collar, it is usually found on button-down style blouses. However, instead of reaching long points on either side of the button placket, a Peter Pan collar has shorter, rounded sections. In many cases, the collar itself is a different color than the rest of the blouse to help the feature stand out. Peter Pan collars are also often worn under a sweater so only the rounded collar peeks out. While the neckline has a more casual appearance, you can wear it to the office if you pair it with a fitted blazer and pencil skirt.
Crew
A crew neckline is a common style for casual blouses. The neckline is slightly rounded and reaches the base of the neck so it is an ideal option when you want to remain covered up. A crew neck blouse usually features a ribbed band around the neckline as well. While it is a common neckline for tee shirts, sweatshirts and sweaters, you can also find dressy blouses in silk or satin with a crew neckline. These types of tops can definitely work for the office with trousers or a pencil skirt since they're modest and offer a professional look. However, they're also a good option for an evening out when you're wearing a mini skirt and don't want to expose too much skin on top.
V-Neck
When it comes to casual blouse styles, the V-neck is one of the most flattering styles for all body types. As its name implies, the neck reaches a point to form a shape like the letter "V" so it elongates the look of the body to make you appear taller and leaner. While V-neck blouses typically have a more relaxed look that works well with jeans and casual skirts, you can also wear them to the office under a blazer as long as the V isn't too deep. A variation of the V-neck is the scoop neck, which exposes some skin on the chest; it has a rounded, almost "U" shape instead of a "V."